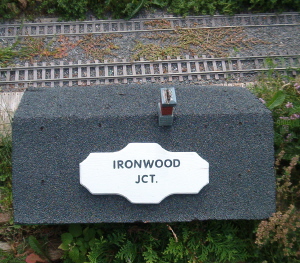 After a railway photographer recently stated he was too embarrassed to take a front view of the dilapidated passenger station at Ironwood Junction, railway management decided that it was time to update this once thriving community.
The walls between Mount St. Helens and the eastern entrance of Ironwood Junction show signs of 15 years of weathering and frost jacking.
A long view showing the track and station overgrown with weeds and other vegetation. The walls are a hodgepodge of old railway ties, telegraph pole cross arms, concrete blocks, bricks and stone.
Two short spurs and a freight shed made from an obsolete boxcar speak volumes about the downturn in Ironwood Junction's economy.
The village of Ironwood is now a ramshackle row of dilapidated and abandoned homes.
The track and roadbed have been lifted. After 15 years of exposure to the elements, most of the roadbed was still is fair condition.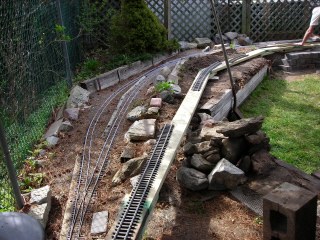 The ravine between Mount St. Helens and Ironwood Junction will be filled once the retaining walls are finished. New roadbed has been laid from Mount St. Helens reducing the grade and increasing the diameter of the curve.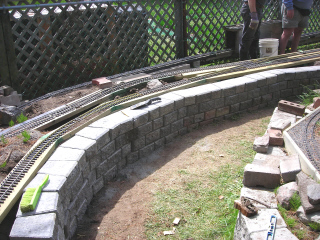 After the fine work done at Spruce, Watkins Construction was again hired to build new stone retaining walls around Ironwood Junction.
Track crews are hard at work laying the new road bed and track.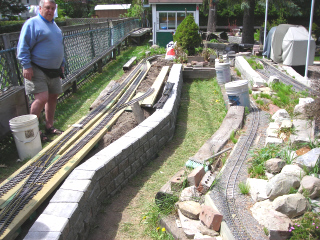 The new retaining wall is already in place on one side, as is the mainline and passing siding. The main line now has new number 6 switches.
Lawrence Watkins working on the second retaining wall.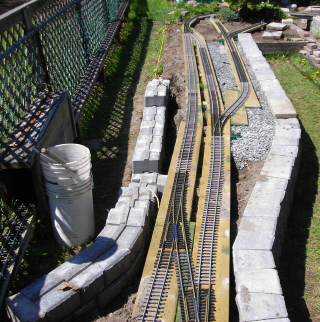 Another day's work and the second retaining wall is half way there. Fred and Gord have laid all the roadbed, track and switches.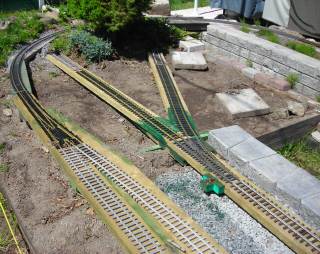 The new elongated stub sidings with a barrel bolt switch throw in place. The dilapidated village has been removed and the overgrowth around the sidings removed.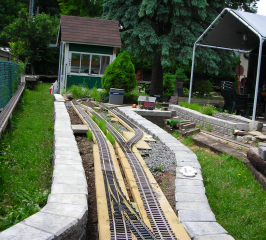 Both retaining walls have now been completed and capped. All that remains to do is the landscaping.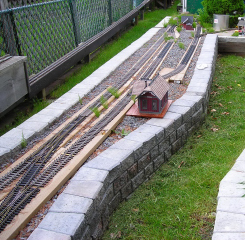 Spring '08 at Ironwood Junction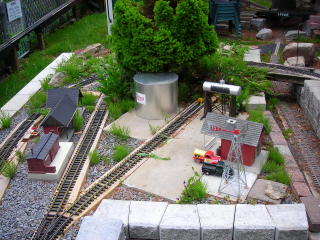 The Passenger Station and Freight Shed are on the left, Larabie Fuels on the right.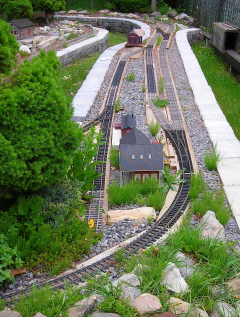 On the curve to Spruce, looking back on Ironwood Junction.