Recently a broken number board on an RS-3 had to be replaced. As the new part came with a number that was not the one on the diesel, it had to be removed and the proper number added.
A Q-tip was dipped in a circuit board cleaner bought from Active Electronics. With some light rubbing the numbers came off without marring the clear plastic.
Staples sell a sheet of black, rub-on numbers in various font sizes. I put the new numbers on, but messed it up. Fortunately the numbers could be picked off with an X-Acto scribe and the glue removed with a dry Q-Tip.
On my second try the spacing and alignment were correct and the numbers perfectly printed, but they did not show well against the clear number board.
The numbers were again cleaned off and the front of the number board given a light spray of white paint. When it dried, the new numbers were added. It looked so good, the remaining three number boards were cleaned, painted and re-numbered. Dullcoat was sprayed on to seal the deal.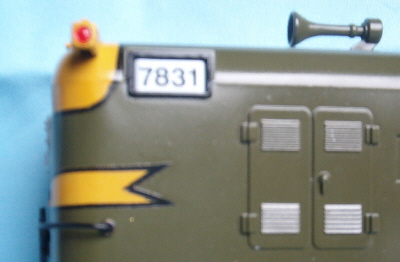 UPDATE: After receiving a Brother P-Touch Labeler for Christmas, I realized that the number boards could be re-lettered using it. The self sticking, water resistant tapes come in a number of formats including: black on white, white on black, black on clear, and white on clear. So a style can be chosen depending on the railway being modeling. The labeler also has a number of different sizes of fonts.