The trackside, 2.7 MHz, Train Engineer is a radio control system manufactured by Aristo-Craft.
It was originally sold in the early '90s to control an entire garden railway, but our club members realized it could be used in a trailing power and control car to battery power and radio control a locomotive.

Over the years, the TE has proven to be bullet proof, with a reliable and responsive radio range of 40 to 50 feet in a trailing car. Twice that radio range is possible if the TE is used as a trackside unit for a track powered railway and the receiver's wire antenna is fully extended straight up. To maximize radio range, the short transmitter antenna shown in the first picture should be replaced with the metal, telescoping antenna.
When we began using Aristo-Craft, lithium-ion battery packs in our power cars however, problems with the power switches on our TEs were encountered.

After the switch has been used a while, the red (power) LED will light, but the green (signal) LED will flicker and the transmitter and receiver will not link. After continued use, the red (power) LED will not light and the receiver will not function. This is especially true if two lithium-ion packs are used in parallel to power the receiver. A large flash (arcing) is evident when the switch is thrown. We assume the arcing is either carbon coating the switch terminals or melting them.
We are now encouraging our members to install a double-pole, double-throw (DPDT) toggle switch between the receiver and the lithium-ion battery pack. The TE power switch would be left on, and the DPDT toggle switch would be used to turn the battery on and off. The switch is available from All Electronics under catalog number STS-80.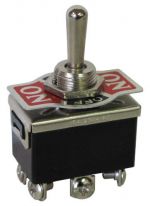 When two lithium-ion packs are used to power the receiver, a four-pole double-throw switch should be installed. A standard sized, four-pole double-throw, center-off toggle switch is used in our Evans Power and Control Boxcars. The switch is available from All Electronics under catalog number STS-71. OVGRS members can purchase the switch by contacting Paul Norton.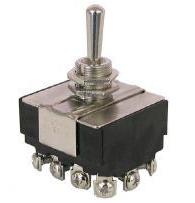 The screw terminals on both these switches make it easy to install the heavy wiring used on the new 27MHz trackside receivers and lithium-ion battery packs. The receiver and battery pack connectors can be easily replaced with number 6 loop terminals which are available locally at Canadian Tire and most electronic shops.
For a more complete description on how the 4PDT switch is wired between two lithium-ion battery packs and the receiver, see the article on how to build an Evans Power and Control Boxcar.