This article illustrates how to install to install Kadee 1787 Gauge 1 couplers on an Aristo-Craft GP-40.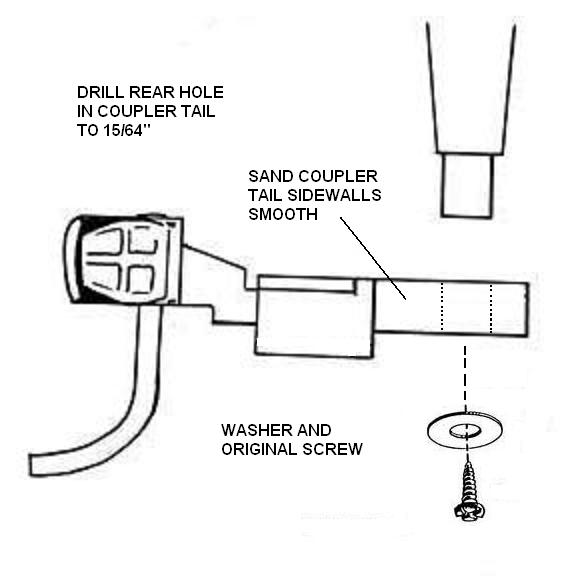 The only modification required is to enlarge the rear hole in the tail of the gear boxes with a 15/64th inch drill bit so they will fit snugly over the coupler mounting posts on the diesel. If you do not have a 15/64ths inch drill bit, a 1/4 inch bit can be used but the couplers may wiggle on the posts.
To prevent the coupler from climbing the drill bit and boring the hole crooked, sand or file the outside walls of the coupler tail flat. Place the coupler upside-down in the jaws of a drill press vice or other suitable heavy vice and tighten snugly. Slowly drill the 15/64ths inch hole centered on the rear hole in the coupler tail.
Assemble the Kadee couplers as illustrated in their instructions.
To remove the Aristo-Craft couplers, place the diesel upside-down in a foam cradle or rolled towels, taking care not to damage the horns. Remove the small chrome screws and coupler centering springs from the mounting brackets behind the pilots. Remove the chrome screws and washers from the coupler mounting posts and set them aside, as they will used to mount the Kadee couplers.
Turn the diesel over and remove the small black screw on top of the couplers just behind the knuckle. Remove the knuckles, and then the plates that held them to their mounting posts. Re-assemble the knuckle couplers and place them, the return springs and small chrome screws in a Ziploc bag. Mark the road name, GP-40 and the road number on the bag and store them in the diesel's packaging.
After the Aristo-Craft couplers are removed, turn the diesel upside-down in the work cradle. Slip the Kadee couplers through the slots in the pilots and over the mounting posts. You may have to push on the coupler return spring mounting bracket a bit. Fasten the couplers with the original Aristo-Craft washers and screws.
If you have 1/2 inch OD washers with a 1/8 inch hole in the center, use those in place of the original Aristo-Craft washer to minimize coupler flex on the mounting post.
Do not use the #4 screws provided by Kadee as they will split the mounting posts on the diesel. Use only the original Aristo-Craft screws, when mounting Kadee couplers on the posts of ANY Aristo-Craft diesel.
The couplers will fit to the proper height and provide a wide swing.