Each year since 1998, the Ottawa Valley GRS has invited their American friends to operate their trains in an annual event that has come to be known as The American Invasion of Ottawa.
Day 1
The first day was a visit to Doug and Barb Matheson's home beside the Rideau River. It was a casual afternoon under the trees where some of our guests got to warm up their live steam trains on Doug's Northland Garden Railroad.
Doug has a wonderful railroad in a grove of conifers.
Gaetan Charette takes a train through the latest addition of track.
Lela Lyon joins him as they head into the sun.

Bruce Chandler running his beautifully kit bashed locomotive and car.
The size of the locomotive and car is very impressive.
Doug Matheson, Gaetan Charette, Stu Moxley and Lela Lyon are examining a kink in the track that resulted from the heat. The fix was on.
There is nothing like a black and white photo of a steam locomotive run by.
Doug Matheson, Gord Bellamy, John Spencer, Stu Moxley, Bud Nelson, Roger and Sue Caiazza, and sit in the shade to get caught up on the goings on in the hobby.
Doug Matheson is running a train while John Spencer, Stu Moxley, and Bud Nelson railfan.
Doug Matheson is enjoying a little action on his railway.
John Spencer, refreshment in hand, joins him.
Gaetan Charette is setting a derailment right on the newly laid track.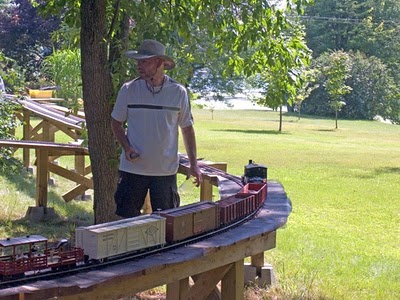 Back on the rails and ready to roll.
Gord Bellamy adjusting one of the many hand laid switches under the watchful eye of Doug Matheson, while Ralph Dipple, Roger Caiazza, and Stu Moxley stand by.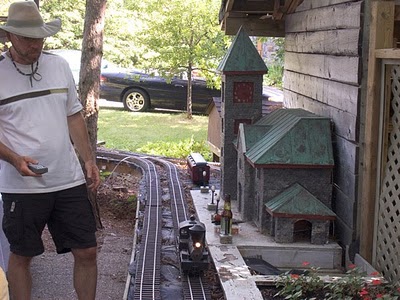 Gaetan Charette is operating a wood burning Shay.
A black and white photo of the Shay passing the majestic Northland Railroad passenger station.
Jan Golding is enjoying a pleasant conversation in the shade on a hot afternoon, with Sue Henrichs beside her on her first visit to Ottawa.
Ric Golding is on a caboose hop with his live steam Shay. Many years ago, it was Ric who jokingly referred to this annual gathering as The American Invasion of Ottawa, and now the name is now steeped in tradition.
Ric's Shay is passing the Northland Railroad Passenger Station.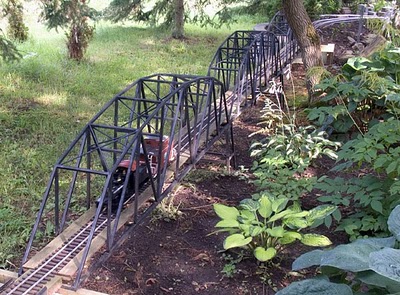 Ric's Shay crossing the steel through truss bridges which Doug and his son's built.
Ric stopping for water as Bruce Chandler extends a welcoming hands.
All the railfans are relaxing in the shade on a hot afternoon while Bud Nelson tells them a story.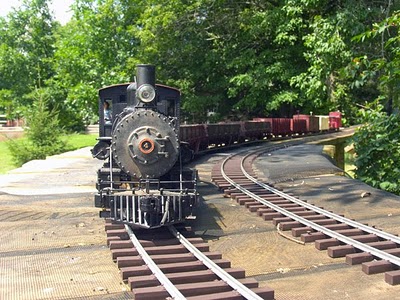 A great railfan shot of engine number 4 hauling a train of gondolas through a gentle curve.
Doug Matheson having a look at some newly laid track as Roger Caiazza runs a live steamer by with Stu Moxley looking on.
Gaetan Charette is obviously enjoying running trains on the Northland railroad.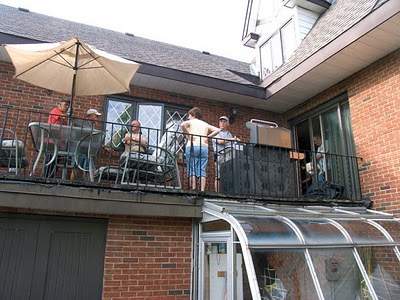 A BBQ to end a great day of running trains, greeting old friends, making new ones, and chatting about the adventures and projects over the past year.
The remaining two days of the 2010 American Invasion of Ottawa are described in the following three pages which are filled with lots and lots of pictures. To view the pictures, click on one of the following links.
2010 American Invasion of Ottawa Day 2, Page 1
2010 American Invasion of Ottawa Day 2, Page 2