The 2012 American Invasion off Ottawa officially started in the afternoon of Thursday, July 19th at Doug Matheson's Northland Railroad. Historically visitors would come early to run their live steamers on Doug's track. But this year it was just too hot to be messing with steam, so battery powered locomotives prevailed. A double-header of battery powered and radio controlled Bachmann K27s with sound were an impressive sight and music to the ears.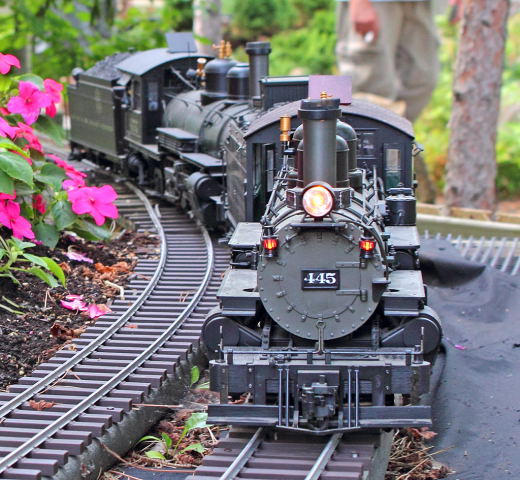 From left to right, our hostess Barbara Matheson, with Martha McCown (Littleton, Massachusetts), and Nicole Charette (Montreal, Quebec) looking over a string of USA Trains, 55 foot, tank cars.
An Aristo-Craft GP-40 hauls a couple of Aristo-Craft Evans boxcars across the steel trestle bridges that Doug and his sons built.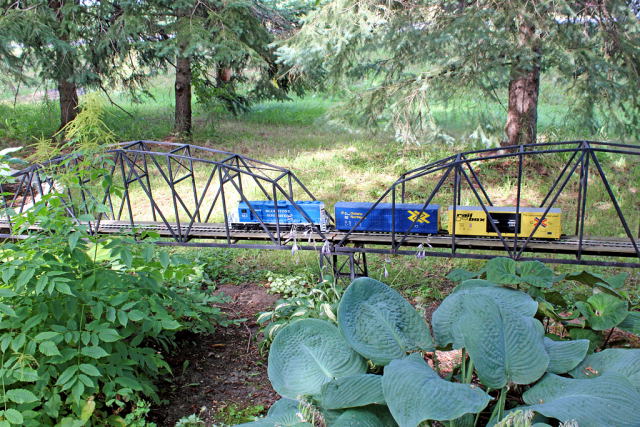 Nicolle and Gaetan Charette (Montreal, Quebec) pose on the flagstone walkway for a photo.
An Aristo-Craft U25-B hauls a short a short train through the bush.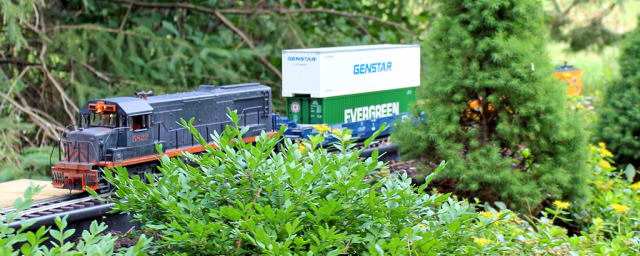 A blue heron in the river inlet at the bottom of Doug and Barb's property cranes it head for a better view of the invasion festivities.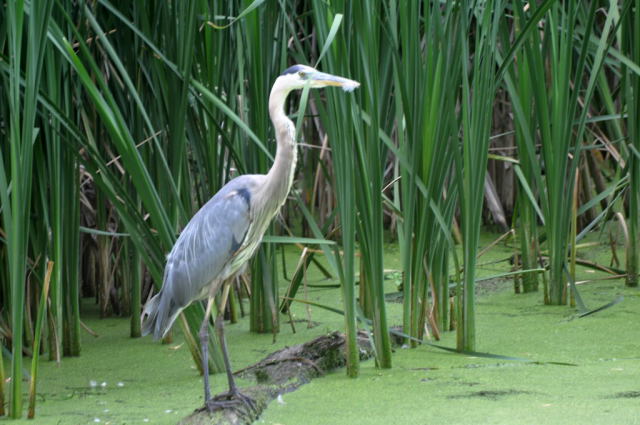 Intrepid wildlife photographer Maurice (Moe) Cote (Ottawa, Ontario) is himself caught in the lens.
One of the car barns on the railway with its 5-way switch from Train-Li.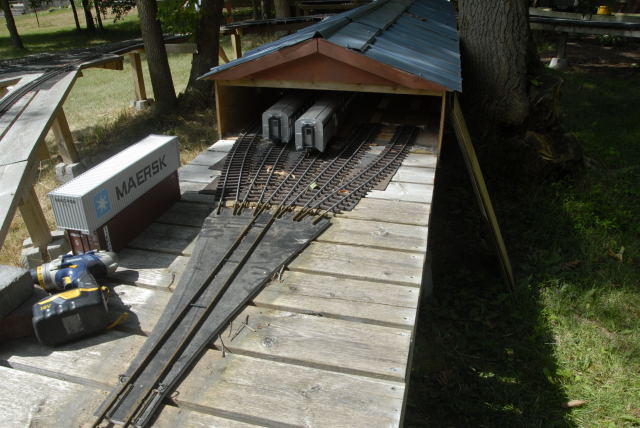 Ken Brunt (West Grove, Pennsylvania) rolling his train past the car barn. Ken was the man that started all this with his visit to Ottawa in '98.
A new yard and turntable under construction behind the car barn.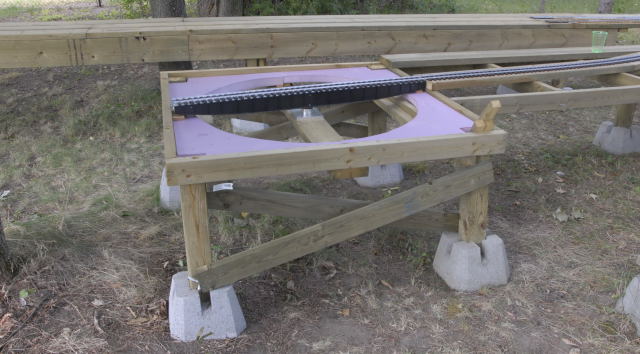 Bill Williams (Ottawa, Ontario) a local Lionel fan takes a break. It was a hot day, so the green glass of Barb's homemade was a popular beverage.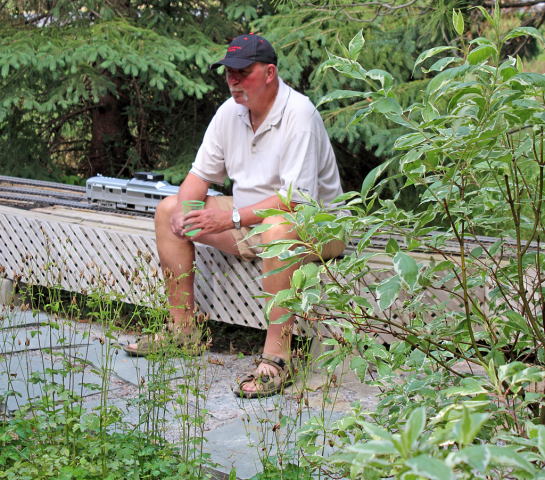 A Bachmann K27 hauling a long freight up the grade across the high iron.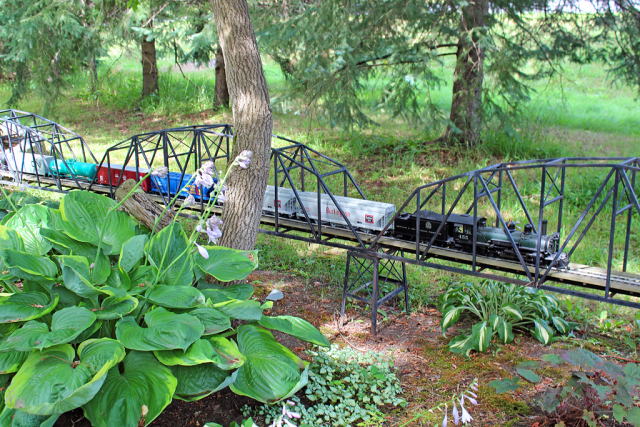 Jane Clarke (Nashville, Illinois) is piloting an Aristo-Craft GP-40 lettered for their Bluestone Southern Railroad. You can tell by the big smile she is enjoying her first visit to Ottawa.
Large scale enthusiast Connor Henrichs (Syracuse, New York) eases an Aristo-Craft U25-B through a switch.
A Bachmann, side-rod diesel switcher is moving some USA Trains tank cars at the end of the railway.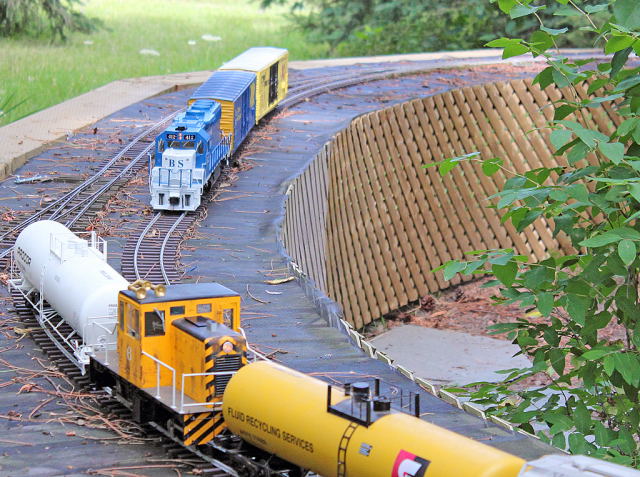 The far end of the Northland Railway. Doug has taken a lot of trouble to blend the railway into a garden that grows in a stand of evergreens. The interlocked stone retaining walls, flagstone walkways, and cedar lattice work really add to the overall beauty of this railway. As many will attest, it a cool and pleasant place to spend a summer afternoon running trains.
Ric Golding (Carlyle, Illinois) assists a young engineer Brendan Hay with his switching duties, as his grandfather Stewart Hay (Kemptville, Ontario) looks on.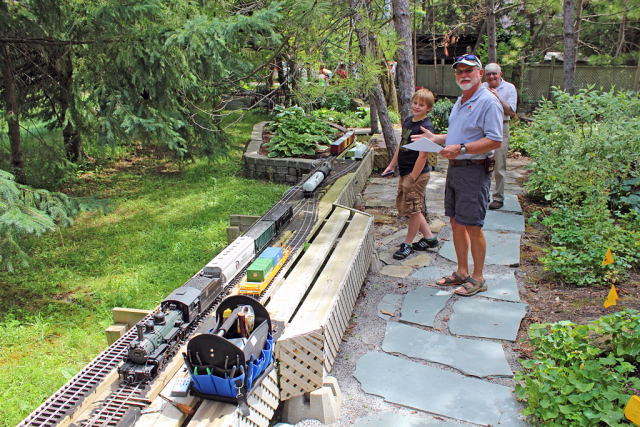 Ric Golding's box-cab was a popular attraction. It not only looks good, it sounds great especially cranking over at start-up.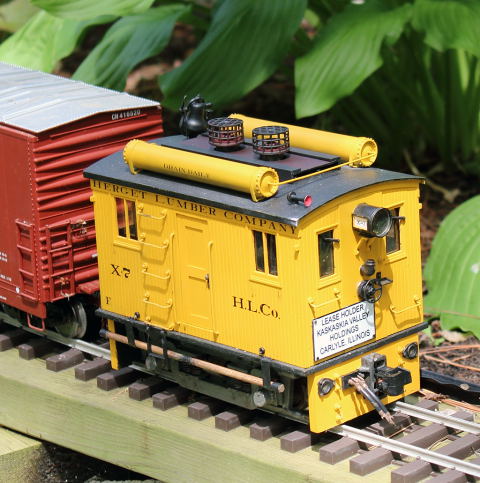 Bob McCown (Littleton, Massachusetts) explaining something to Bruce Chandler (Burke, Virginia) while Bob's son Will looks on. Judging by Bruce's body language, he is not buying what Bruce is selling.
The previous picture gave me a feeling of déjà vu. Ah yes, Bob and Bruce at the '05 Invasion with Stu Moxley (Ottawa, Ontario) and Ken Brunt looking on.
Jan Golding (Carlyle, Illinois) is watching her Bachmann, industrial Mogul hauling a long, heavy train up the grade. Ken Brunt is curious to see if the little engine really could.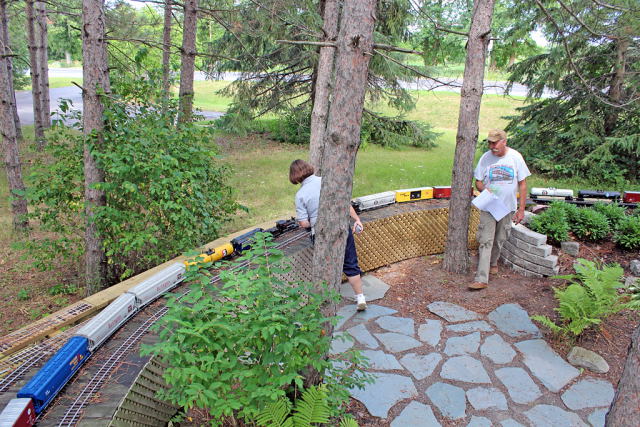 Fred Mills (Ottawa, Ontario) and Jim Henrichs (Syracuse, New York) are relaxing after a day of rail fanning.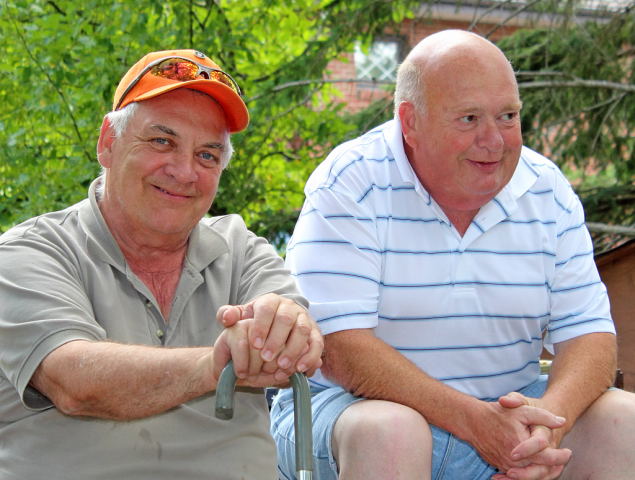 Our host Doug Matheson (standing) is talking with Ralph Renzetti (Toronto, Ontario), while Lela Lyon enjoys a sip of red wine in the shade of a gazebo. As you can see by the flowers in the background, Doug and Barb both enjoy gardening.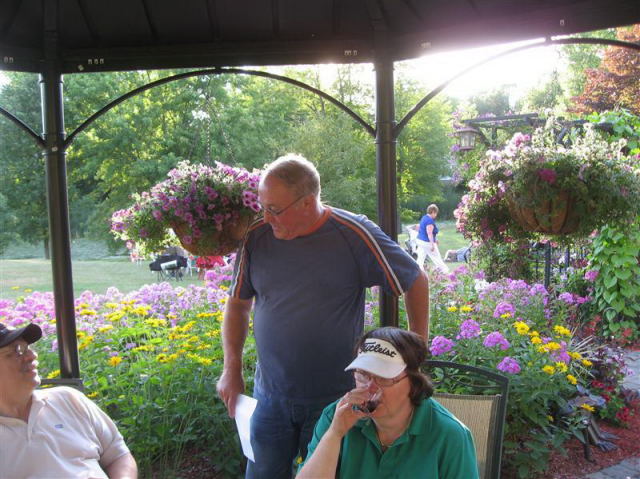 After a long, hot day of running trains, visitors were treated to wine and a delicious meal which included salads, grilled chicken, ham, and dessert. Here is part of the crowd gathered on the back lawn in the shade of several trees.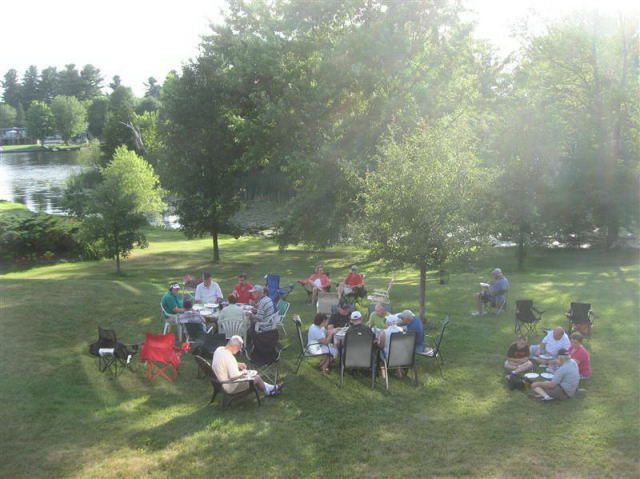 Chris Lyon (Ottawa, Ontario) providing some mellow dinner music. That brings to a close day 1 of the 2012 American Invasion of Ottawa.
Thank you: Bruce Chandler, Chris Lyon, David McCurdy, and Maurice Cote for your pictures.
To view the morning of Day 2 of the 2012 American Invasion of Ottawa, click on the following link.
2012 American Invasion of Ottawa Day 2, Morning