Back in '98, Ken Brunt of Pennsylvania set out into the Canadian wilderness north of Ogdensburg, NY in search of the fabled Ironwood, Peter's Pond & Western Railway. Unnerved by the lonely highway through the empty countryside, our intrepid explorer was glad when he reached Ottawa an hour later. There he met up with his host Fred Mills who provided him with a guided tour of the IPP&W Railway.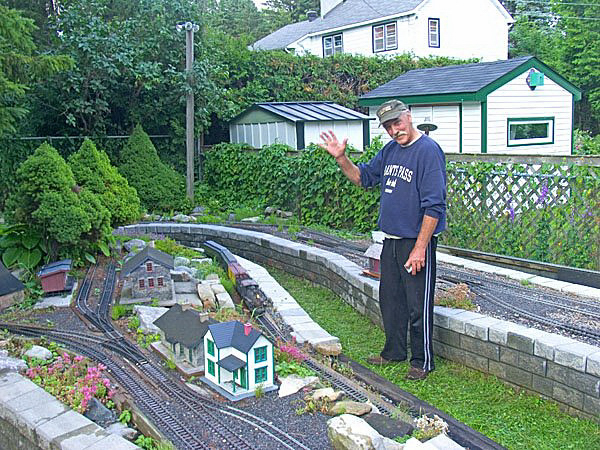 Ken obviously enjoying himself as he runs a train down the grade at Spruce.
That initial trek encouraged many others from states as far away as Illinois to make the annual pilgrimage north in what is now known as the American Invasion of Ottawa. This is ironic, because in 1857 Queen Victoria chose Ottawa to be the capital of Canada as it was surrounded by a dense forest far from the border, unlike other major Canadian cities which proved vulnerable to American attack during the war of 1812.

Here host Fred Mills unfurls the Stars and Stripes to welcome our American guests.
But why would so many travel so far to see the Ironwood, Peter's Pond & Western Railway?

A group photo of some of the attendees at this year's event.
The IPP&W is a large point to point garden railway that uses a computer program called Rail Ops to organize prototypical railway operations. Trains are run using printed train orders that instruct the crews where to start, where to drop off and pick up cars along the railway, and where to finish.

In the foreground Linda Spencer (AKA the JigStones lady) holds the train orders, while John Spencer fuels his live steam locomotive.
The small green and white building in the background is the dispatcher's office. All train crews carry a two-way radio which they use to call the dispatcher to request clearance between points along the railway. It is the dispatcher's job to keep the railway running efficiently and prevent cornfield meets. Unfortunately with so many trains running on a busy railway delays are inevitable.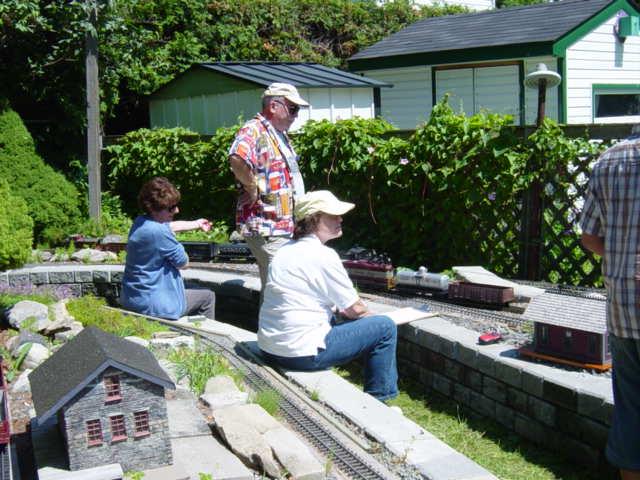 Jan Golding, Bruce and Jean Chandler wait until another crew finishes their switching assignments at Ironwood Junction.
The four days of the 2009 American Invasion of Ottawa are described in the following four pages which are filled with lots and lots of pictures. To view the pictures, click on one of the following links.
2009 American Invasion of Ottawa Day 1
2009 American Invasion of Ottawa Day 2
2009 American Invasion of Ottawa Day 3