On Friday the 17th of July 2009, the weather was great! Garden railway enthusiasts from Canada, the United States of America, and England gathered in Fred Mills' backyard for a day of operations on his Ironwood, Peter's Pond and Western Railway.
There would be a standard gauge railway operation both before and after lunch, followed by a "run what you brung" session in the evening, and "show and tell" time after supper so attendees could show off their kit bashed creations and favourite locomotives.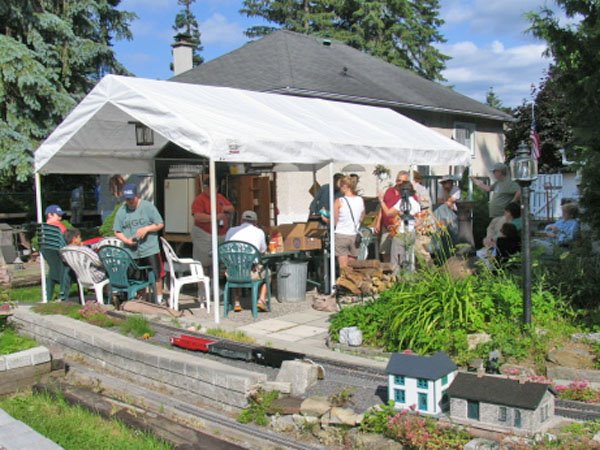 After setting out the rolling stock, everyone gathers around the comfortable crews' quarters. This area next to the fish pond includes a large open tent, tables, chairs, a beverage fridge, and two BBQs.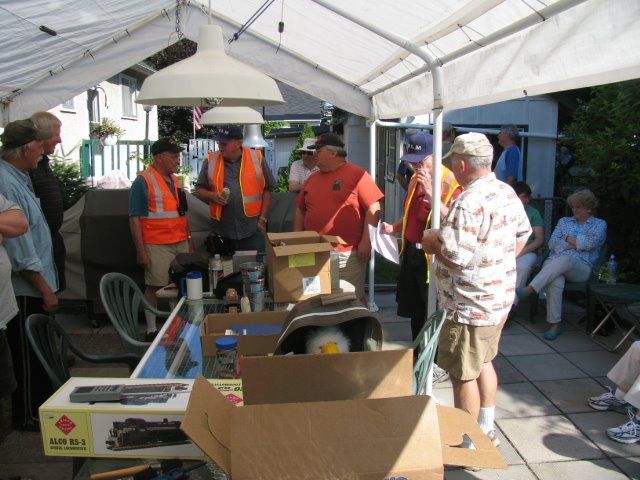 Enthusiastic crew members were eager to get started.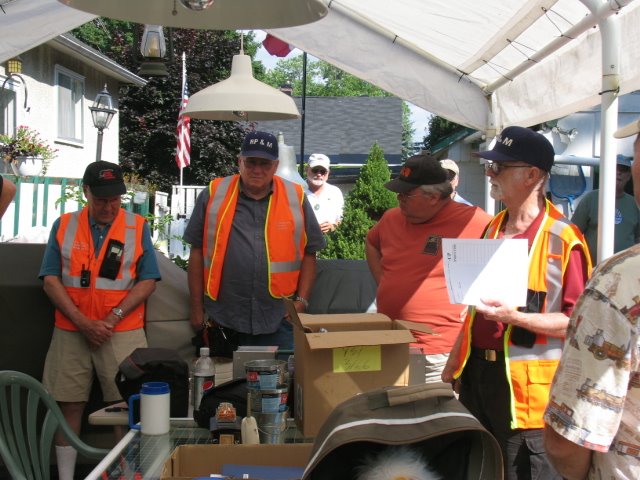 A briefing by Gord Bellamy acquaints everyone with the rules and format of the operations.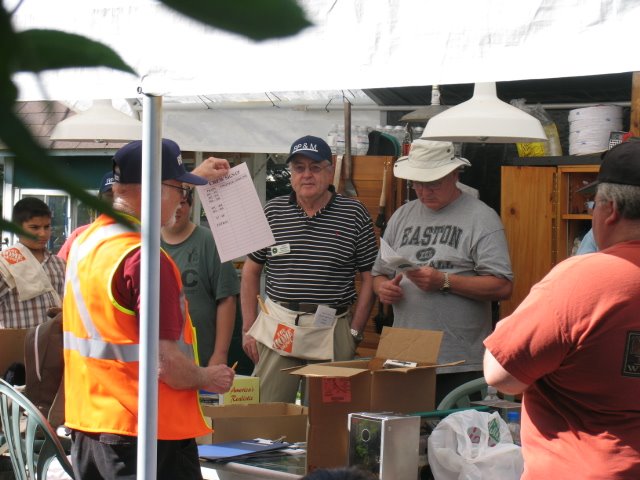 Gord hands out the printed train orders as Colin Churcher opposite looks on attentively. Each train is assigned a two man crew; an engineer and a conductor.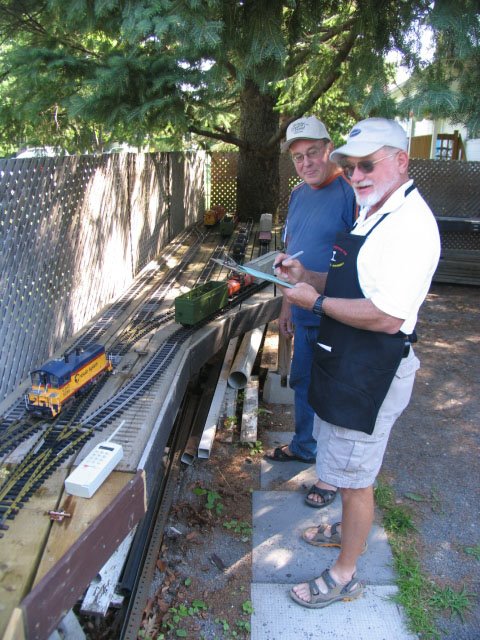 Doug Matheson and Ric Golding, the Yard Masters at Craig Leigh, are getting the first train of the day ready.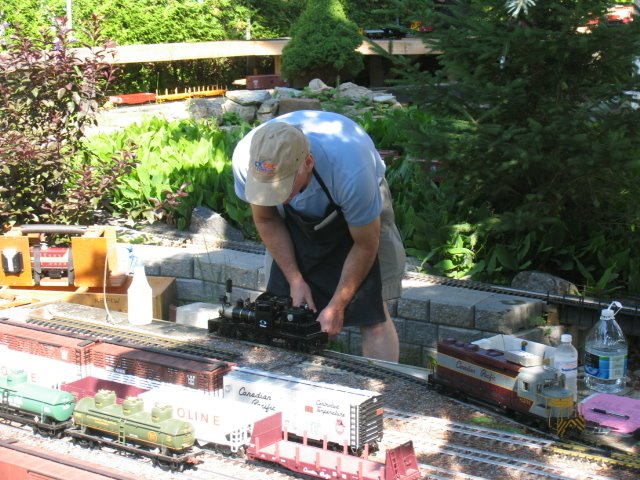 Roger Caiazza is preparing his locomotive for a run. A shortage of diesels prompted the use of live steam power.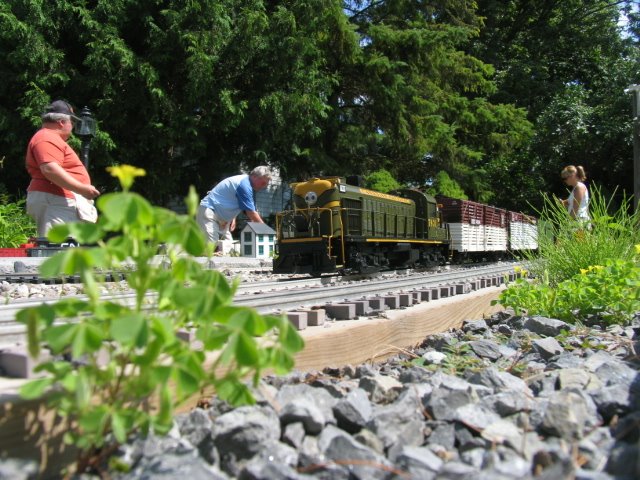 A CNR RS3 with stock cars coming down from Mount Saint Helen's.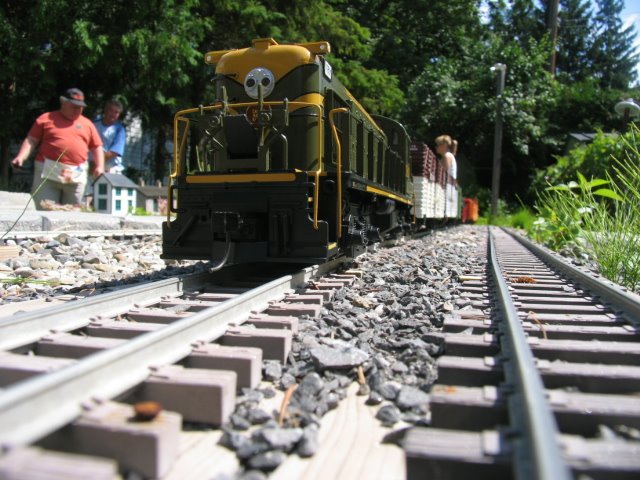 The RS-3 arriving at Ironwood Junction.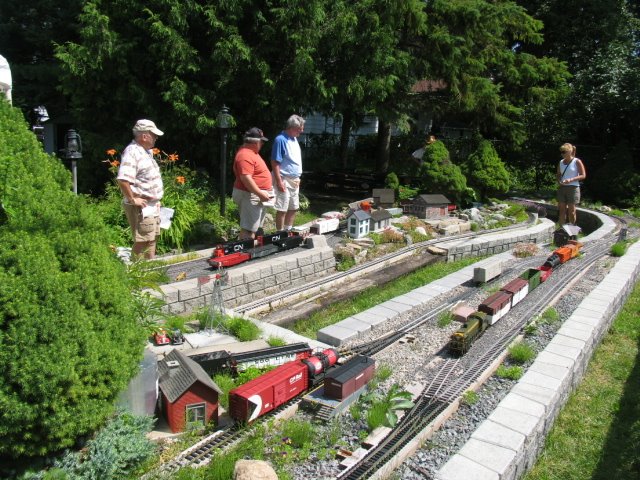 Bruce Chandler looks on as Jon Radder and Paul Norton complete their switching assignments at Spruce. Nicole Charette is waiting around the bend in Ironwood Junction with their train.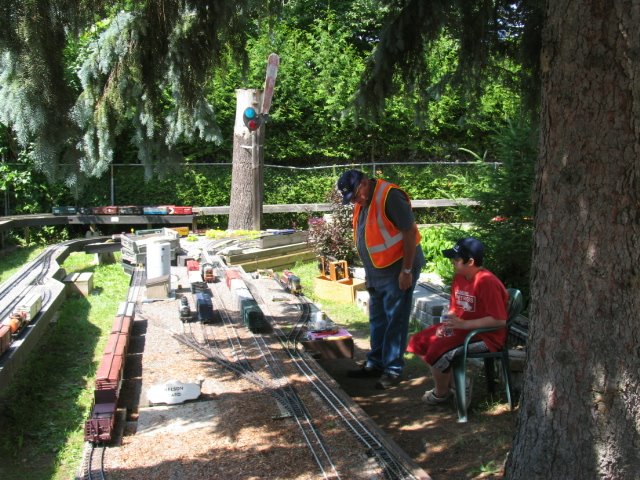 Yard Master, Bud Nelson working in the shade at Nelson Yard as trainee, Tyler Larabie looks on. That is a completely different form of yard work.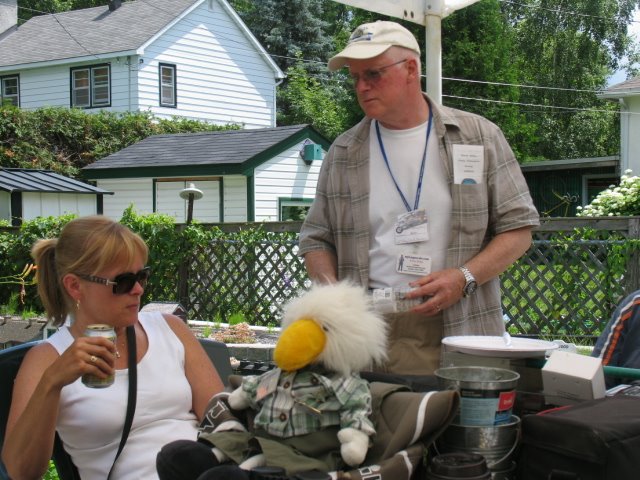 Terry Foley explains his buzzard traveling companion Ig to Nicole Charette.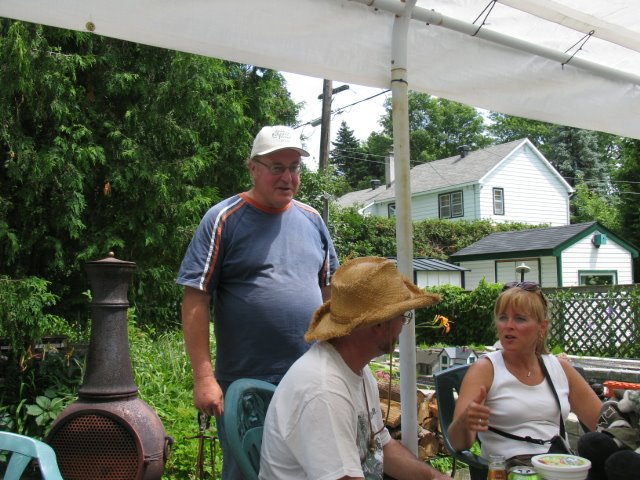 Doug Matheson behind Gaetan and Nicole Charette as the chat during a break in the action.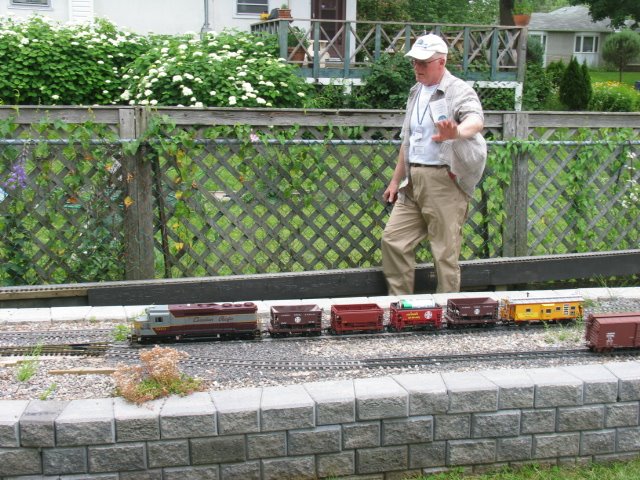 Terry Foley operating a CPR GP-30 diesel. It looks like he has a drink in that hopper.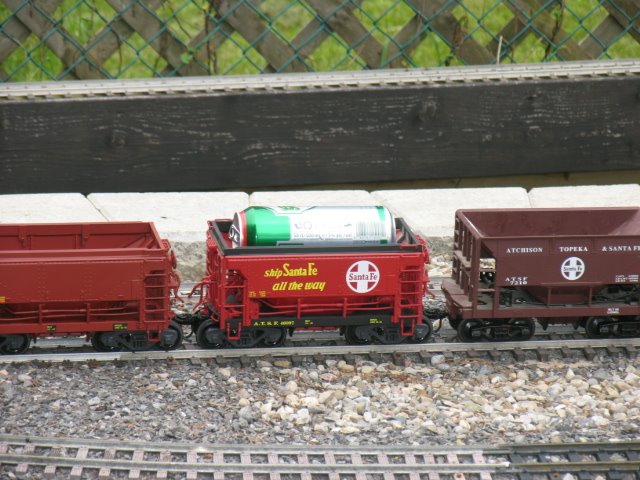 Yes indeed.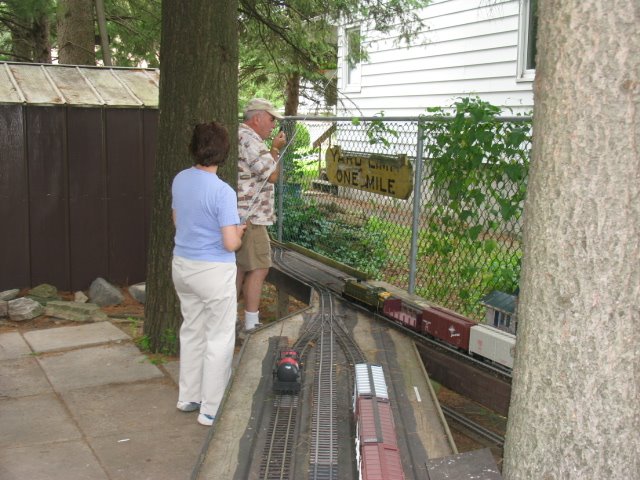 Bruce and Jean Chandler in Mount Saint Helen's have just finished their switching. He is calling dispatch on the radio for clearance to Craig Leigh.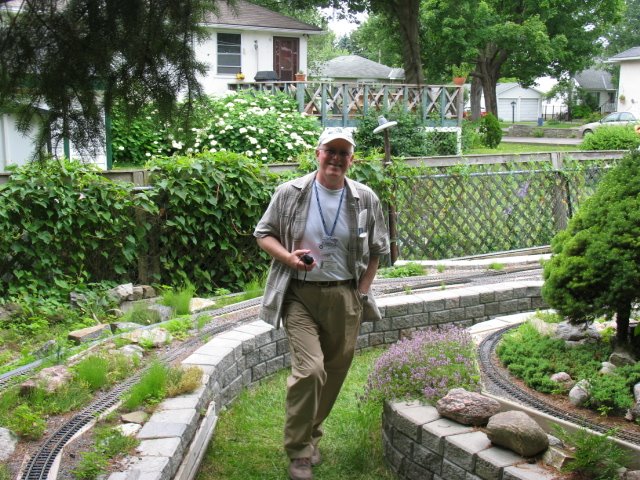 Terry Foley is breaking the rules as he is running to set the next switch.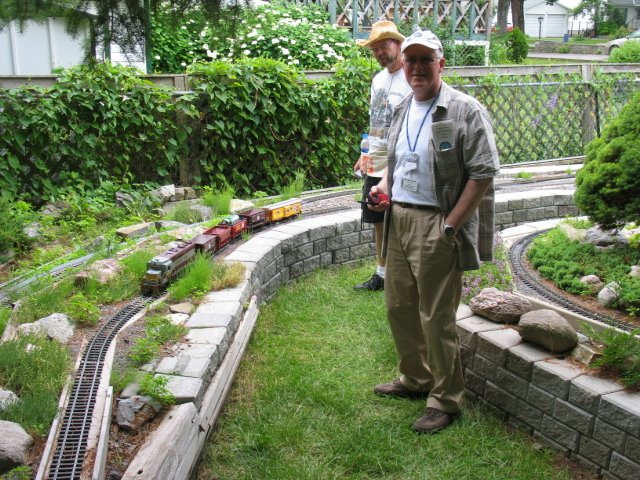 Gaetan Charette and Terry Foley moving their freight train up the grade to Mount Saint Helen's.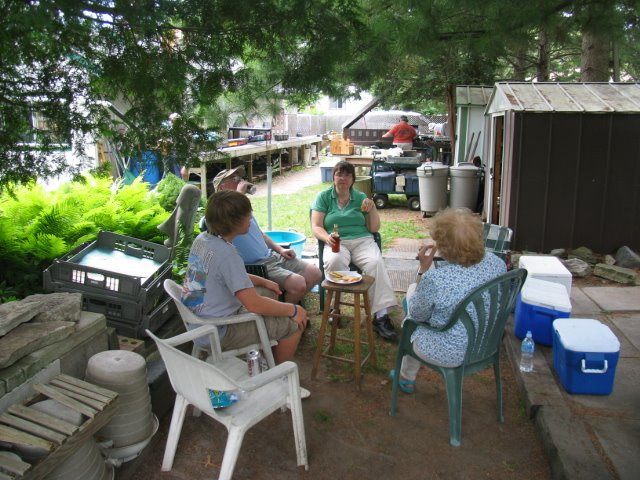 Matthew Radder, Terry Foley, Lela Lyon and Linda Spencer (the JigStones lady) in the shade cooling down and drinking to keep hydrated.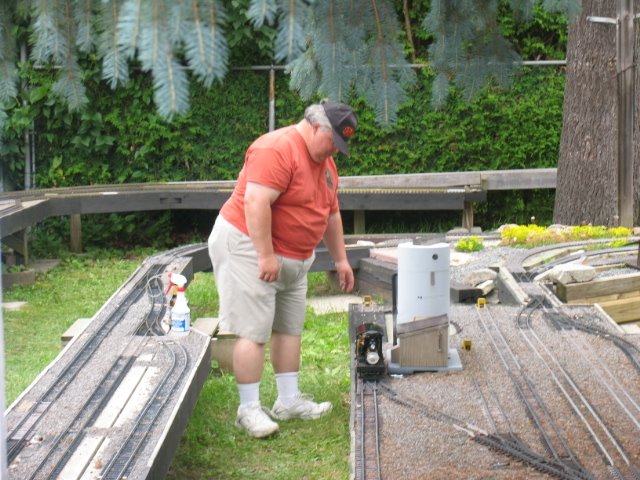 Jon Radder is in Nelson Yard has just reversed his locomotive on the Dave Goodson Memorial Turntable. Rumours of The Old Curmudgeon's passing are greatly exaggerated.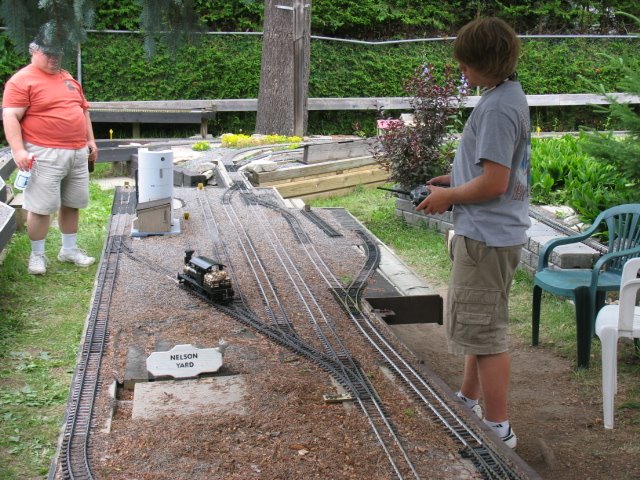 Matthew Radder operating a live steam locomotive using radio control, while his dad Jon Radder looks on.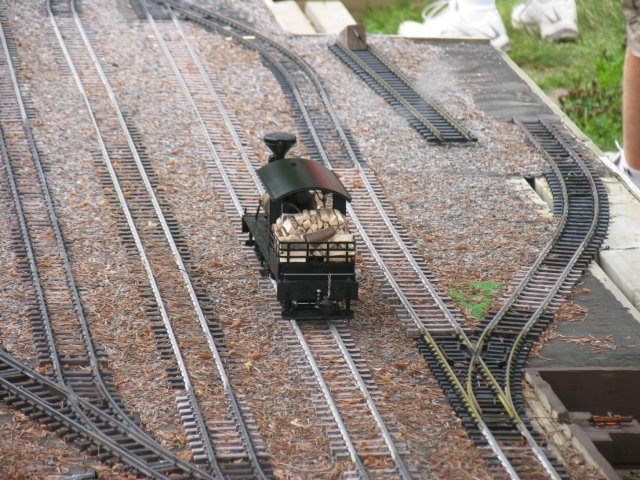 A closer view of the live steam Shay.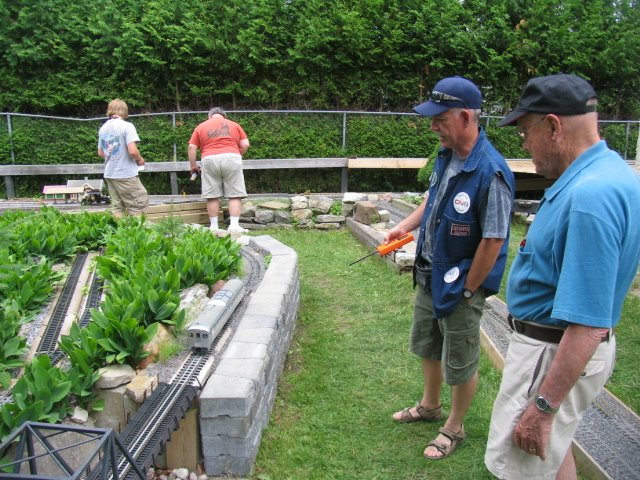 Ralph Dipple watches Gord Larabie's newly acquired RDC as it approaches the bridge before Nelson Yard. Lily siding can be seen in the …you guessed it….lilies.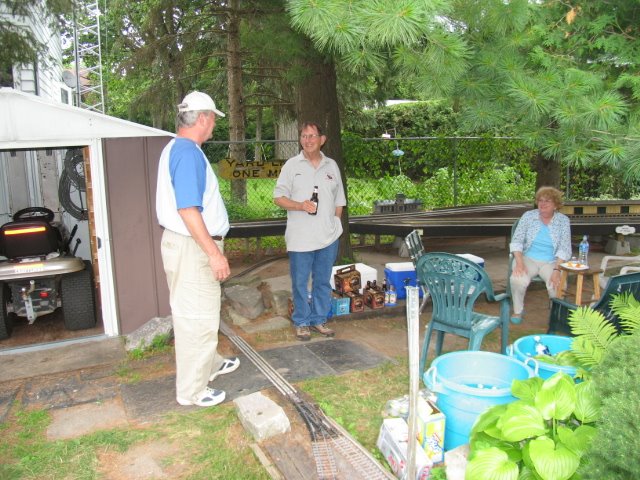 Paul Norton is looking on in admiration as John Spencer stands next to the empties. Linda Spencer is quick to say that they are not all his.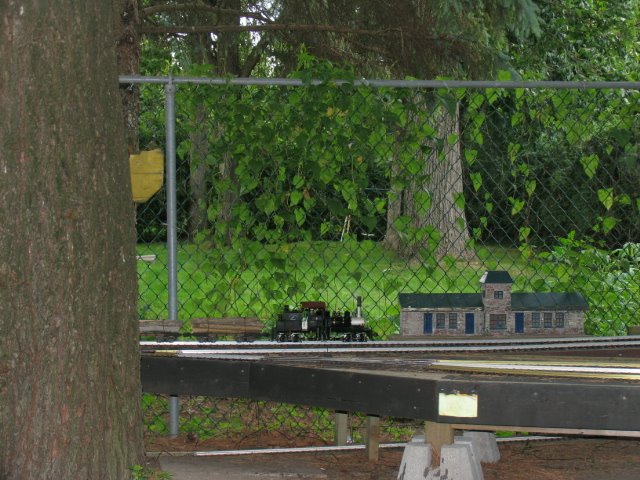 A Shay approaches the passenger station at Mount Saint Helen's. This one of many fine buildings on the railway built by Lawrence Watkin with JigStones.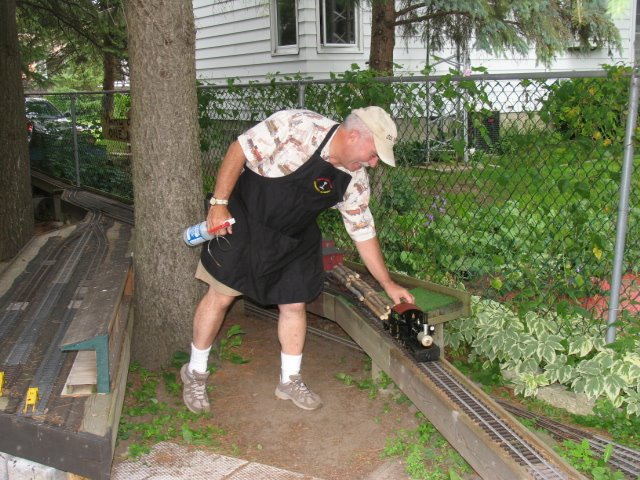 Bruce Chandler with his logging train pulled by his live steam Shay.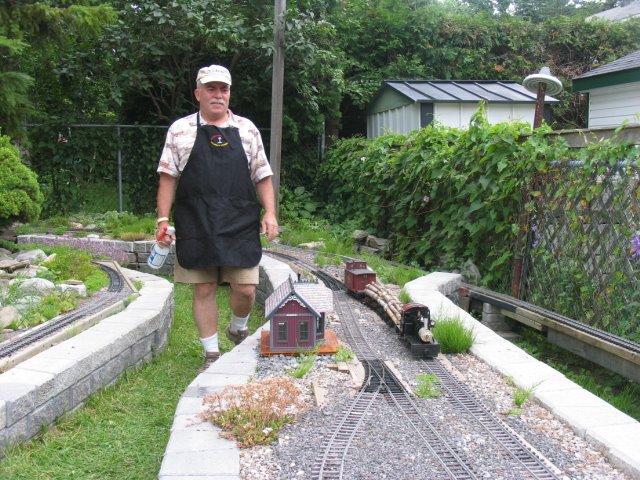 Now that is a proud railroader and rightly so.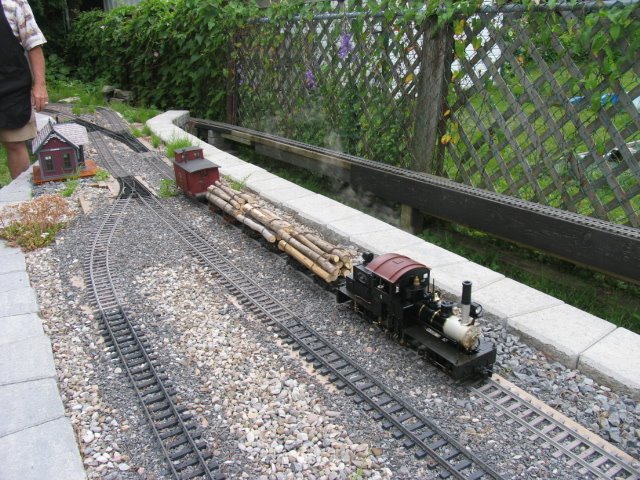 And you can see why.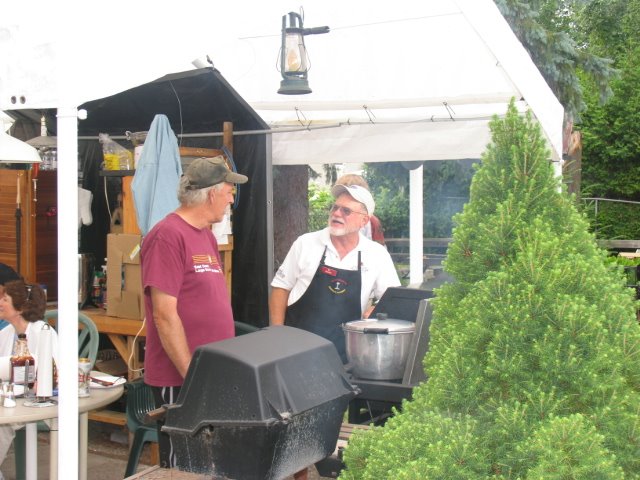 Ken Brunt talking with Ric Golding. Ken was the very first American visitor to Ottawa in 1998. Ric, the chief cook for all things BBQ, coined the phrase "The American Invasion of Ottawa" back in 2005.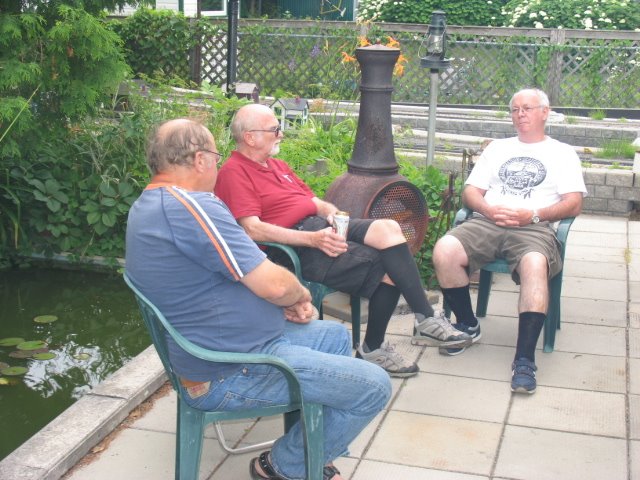 Doug Matheson, Gord Bellamy and Bill (Sn3) Scobie rest by the pond and pontificate about trains and such.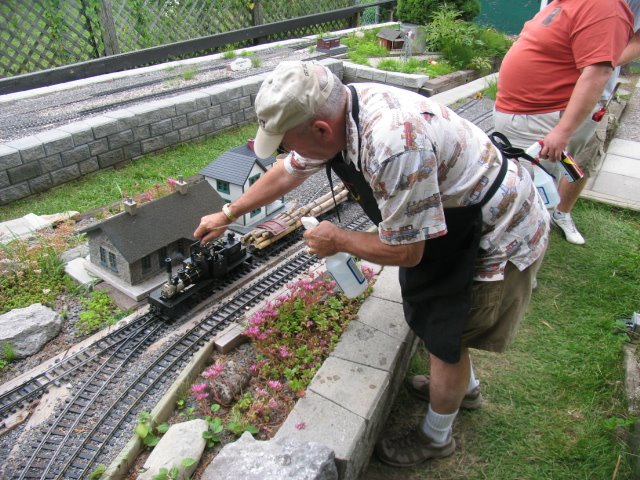 Bruce Chandler raising steam at Spruce.

Looks like another live steamer coming up grade on the far side of Spruce.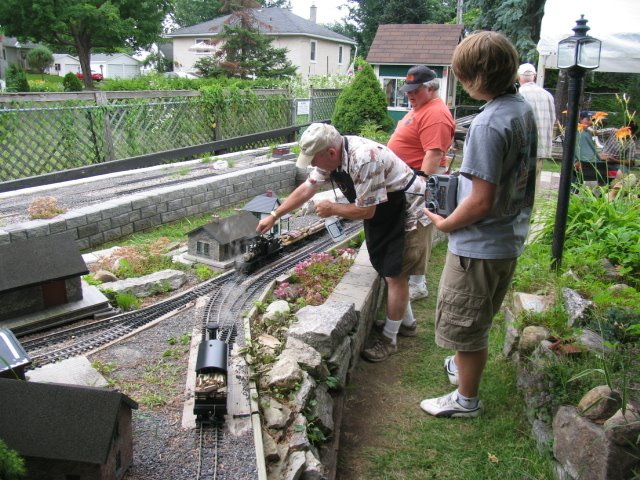 A live steam meet at Spruce. Now that is a sight you do not often see.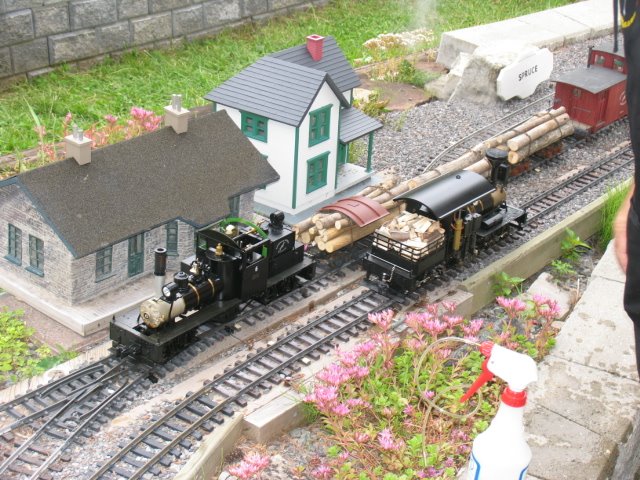 Wow! Live steam at its finest!
Behind the steamers is another beautiful JigStones station built by Lawrence Watkin.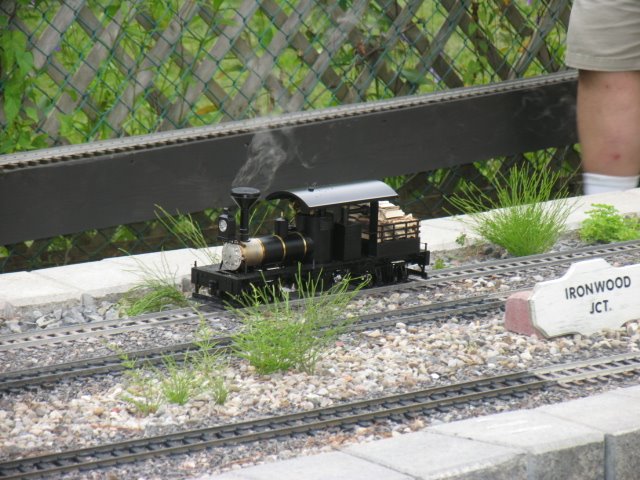 In this shot you can actually see the steam.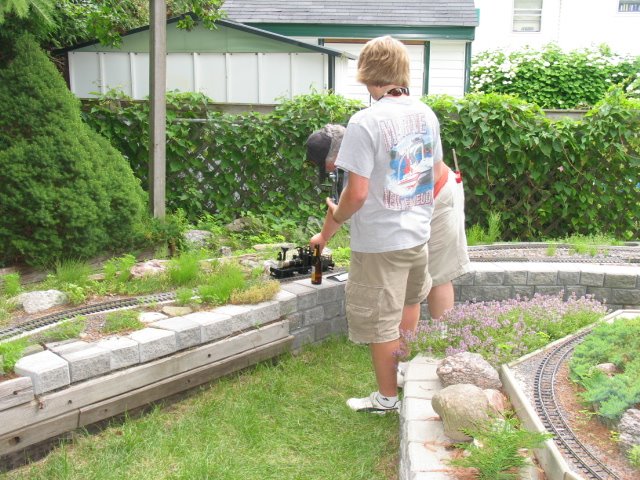 I guess you have to set your bottle down to work on this puppy.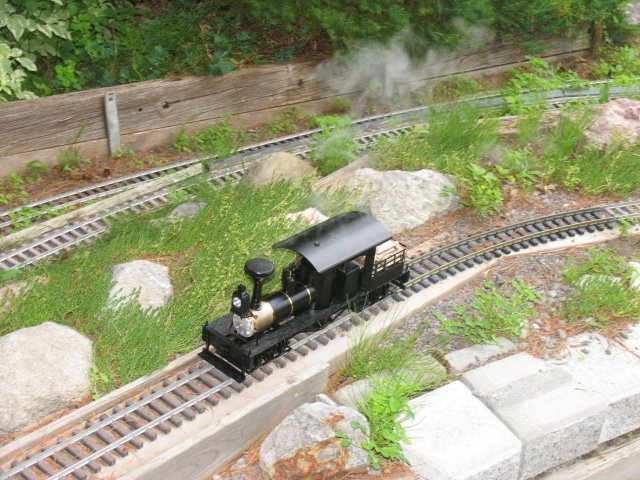 Nice plume.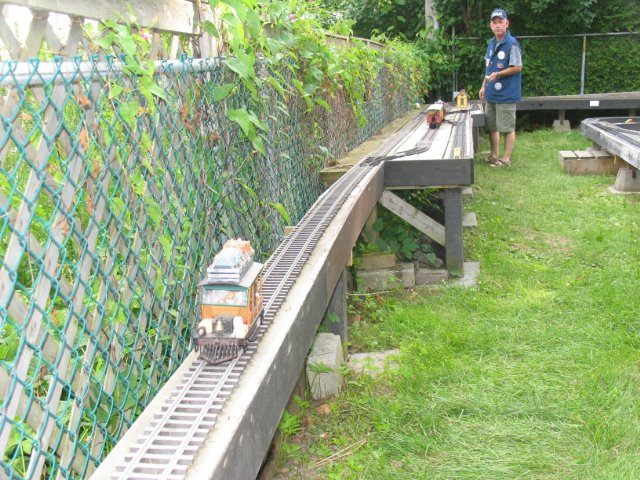 Gord Larabie watches as a railbus scoots by at Bell.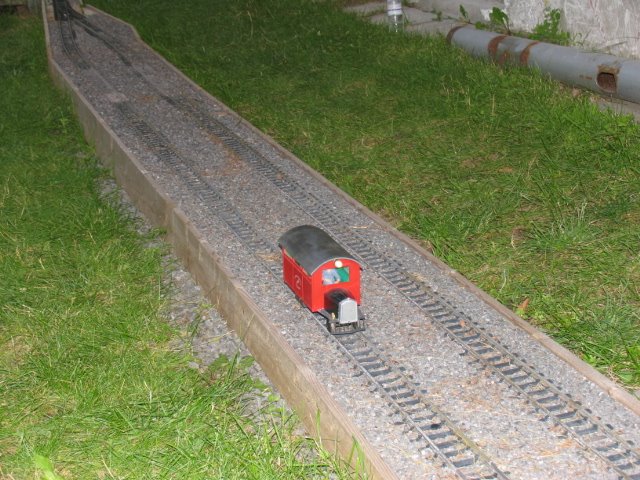 Running through Mercer Siding is Bruce Chandler's railcar. This little guy has big sound, so you know when it is going by.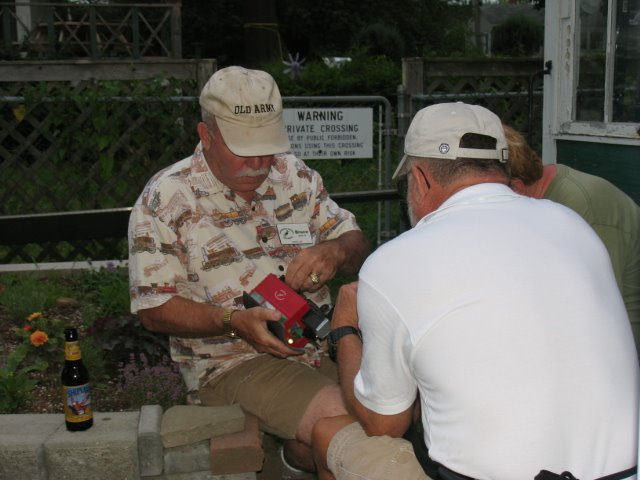 Bruce Chandler explaining the intricacies to Ric Golding, who also has one of these buggies.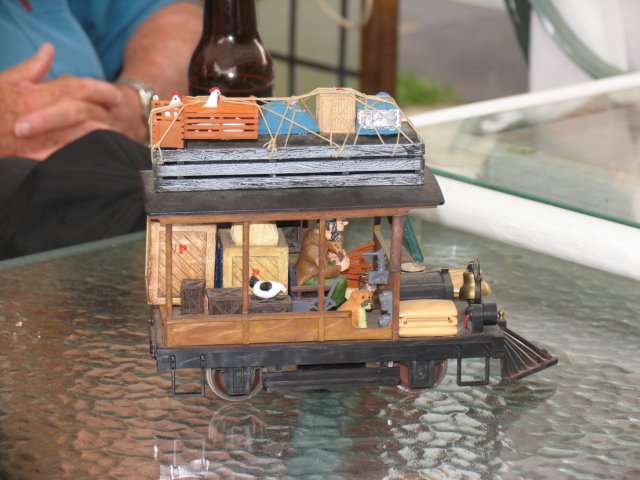 The chicken machine was a hoot. Ric Golding built this rail car and there are chickens everywhere. The dog in the seat does not look impressed.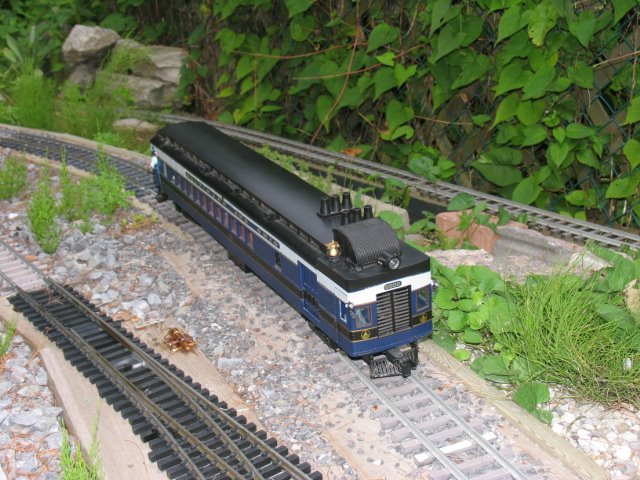 Ric Golding also brought out this B&O doodlebug which was lights, sound and action supreme.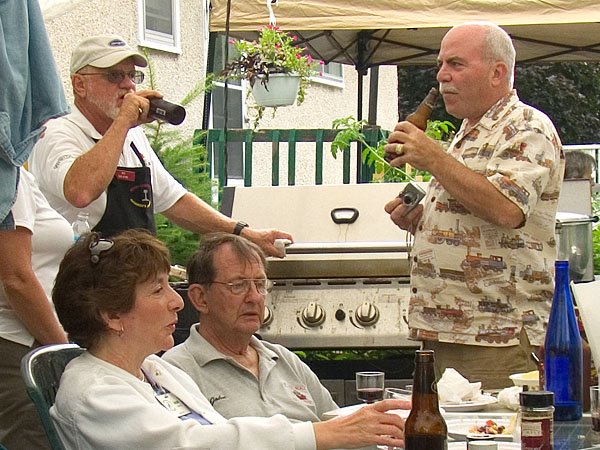 Jean Chandler sitting in front of John Spencer who looks likes he's had a full day, however, Ric Golding and Bruce Chandler are still chugging along.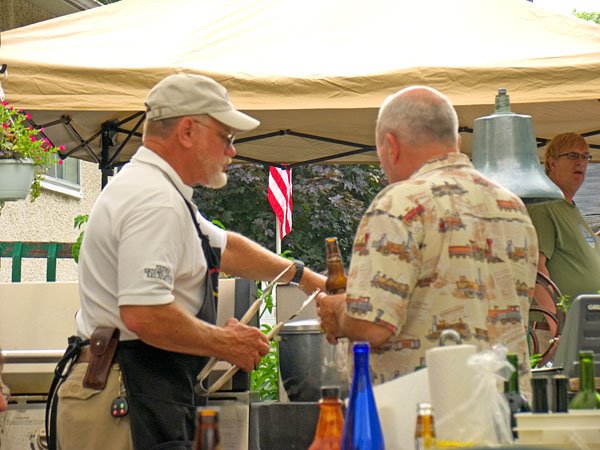 Now Bruce, this is how I BBQ. Ric, the corn is just about ready.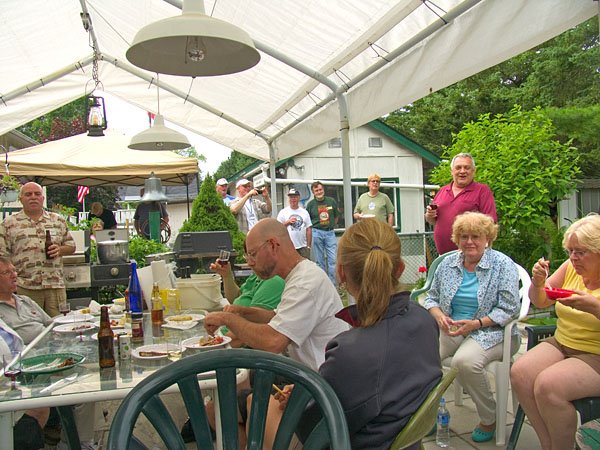 Supper, mmmm foood. Lots and lots of food.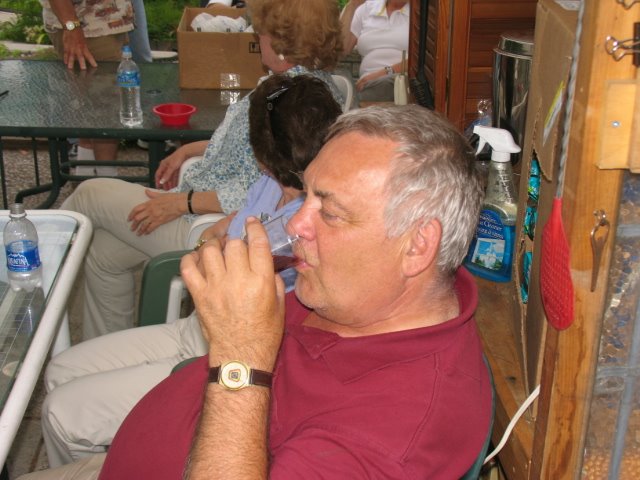 Fred Mills tasting Mike's Charlesbois' homemade port after supper.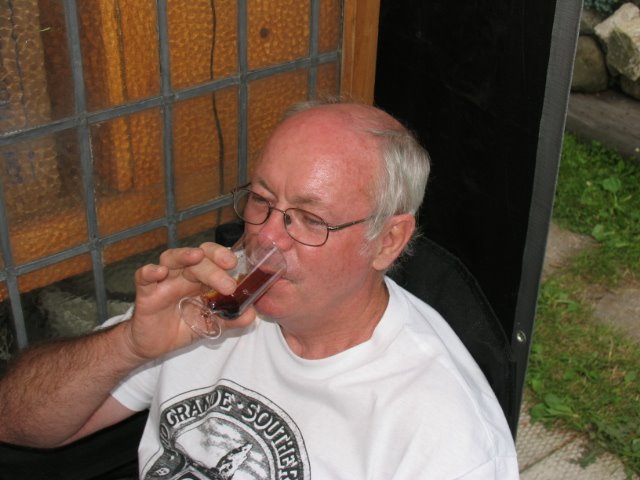 Bill Scobie tasting Mike Charlesbois' homemade Medeira.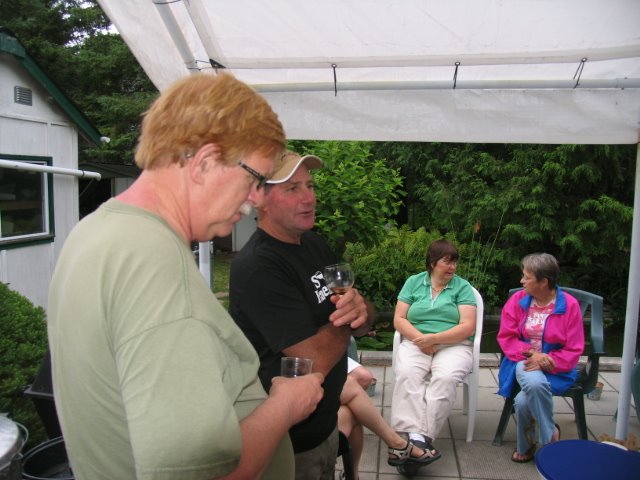 Stu Moxley in the green T-shirt is one of the club's original members, and the first to use the original Train Engineer to build a trailing power car. Behind Stu is Mike Charlebois, one of the National Capital Region's finest wine makers. He brought a number of things to taste, including his prize winning porto and chocolate which was a big hit. In the pink jacket is Lorraine Charlebois, and beside her Lela Lyon.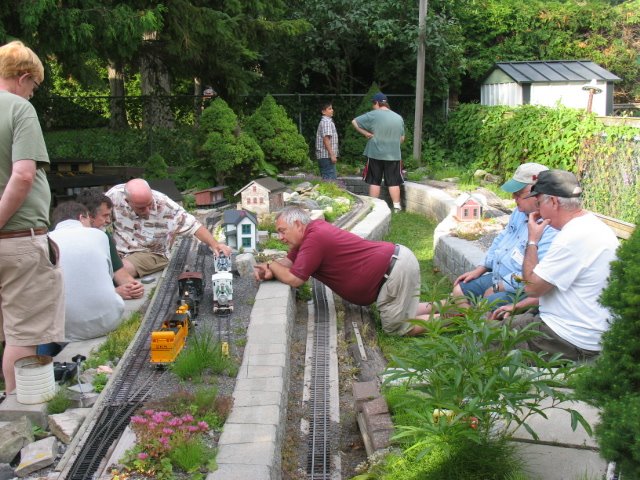 Fred Mills makes a great tunnel as the boys discuss the ongoing process of Carl Swail's locomotive kit bashing projects using Bachmann 4-6-0s.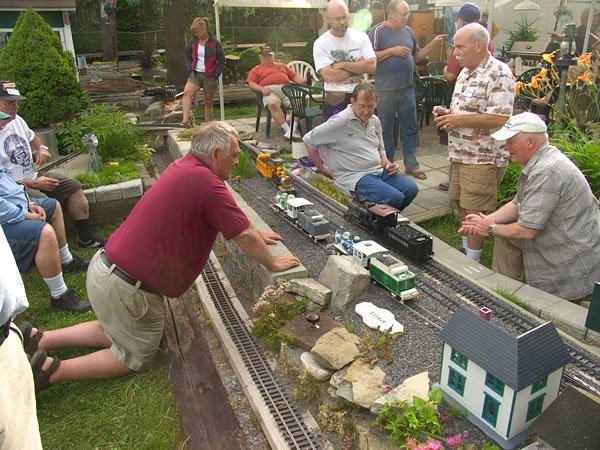 They look great alongside the finished product in Spruce. It draws a lot of interest from the group and many discussions take place about the details.

Gaetan Charette marvels all the stages of construction.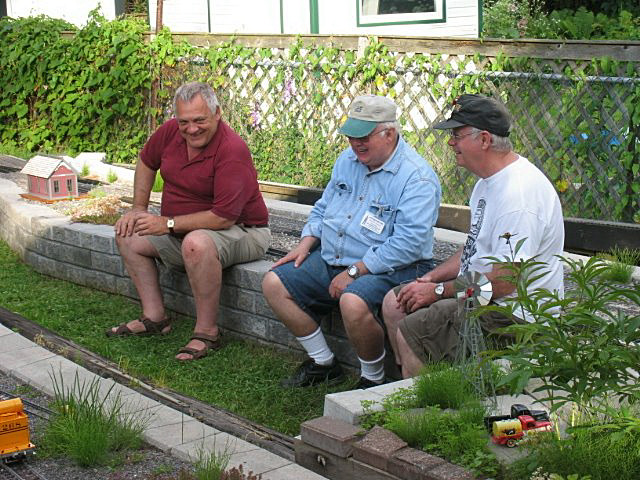 Fred Mills, Don Howard and Bill (Sn3) Scobie are enjoying each others company. Looks like something tickled their funny bones.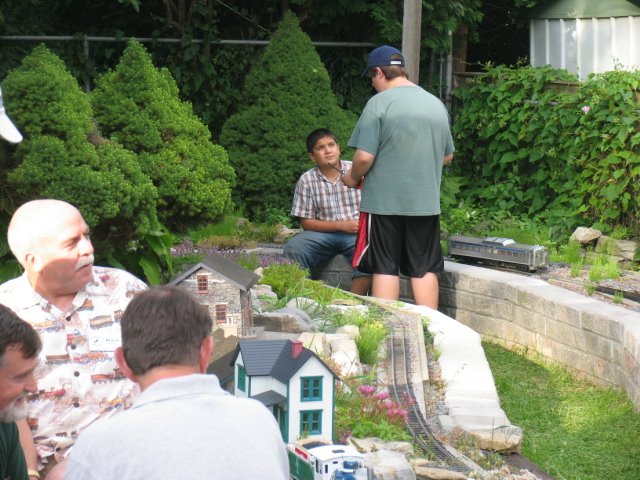 Look out for the RDC Matt!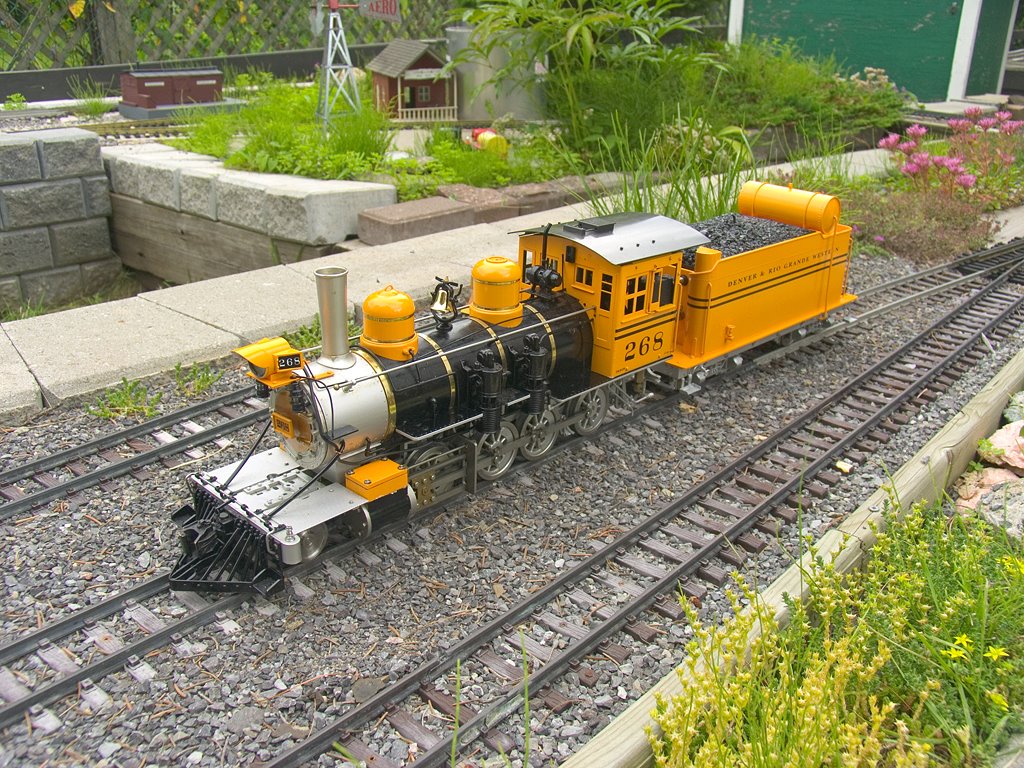 A Bumblebee live steamer belonging to Don Howard was the show stopper.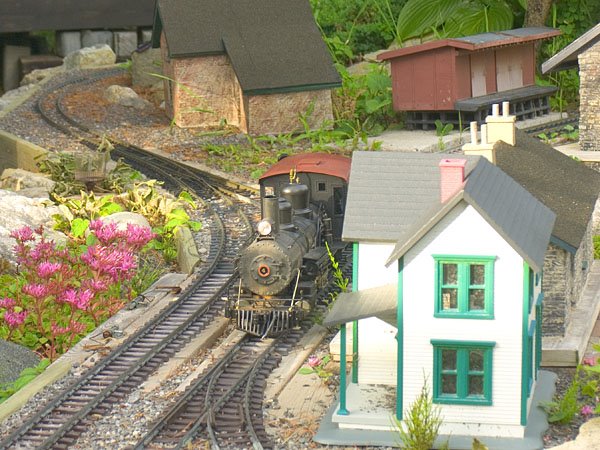 It was indeed a great day.
The remaining two days of the 2009 American Invasion of Ottawa are described in the following two pages which are filled with lots and lots of pictures. To view the pictures, click on one of the following links.
2009 American Invasion of Ottawa Day 3