On Saturday and Sunday, the 1st and 2nd of April 2006, the 17th Annual Train and Toy Show was held in Kemptville. Several OVGRS members were there helping to promote the hobby.
Shown here are Jim Davis and David McCurdy standing in front of Jim's mobile garden railway.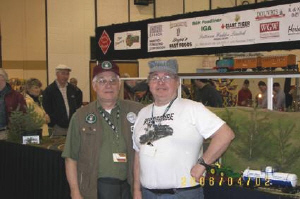 This was one of the shows most popular attractions. David also provided a computer slide show featuring the garden railways of the Ottawa Valley.
In a separate display room, Richard Mercer and Lawrence Watkin had set up a modular large scale railway.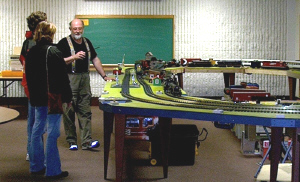 Note the JigStones passenger station and the colourful U25-B lettered for the Algonquin Railway.