Richard Mercer and Lawrence Watkins ran their indoor modular garden railroad at the 2005 Seaway Railroad Show at the local Iroquois High School April 23rd and 24th, 2005.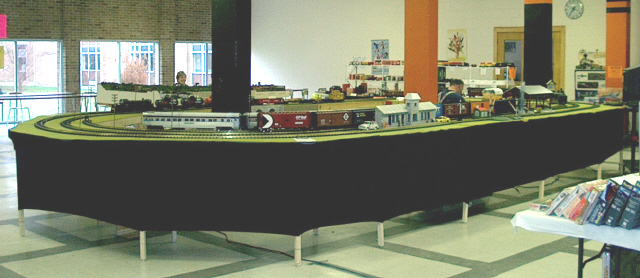 Their indoor, garden railroad is made up of twelve modules forming a rectangle of about 10 by 15 feet. The modules are 16 inches wide on one side, 32 inches on the other side and 36 inches high. The railroad is doubled tracked all the way around with a storage track and buildings on the wide side, for a total of about 100 feet. Track power is individually controlled using the Aristo-Craft Train Engineers. Track, buildings and odds and ends have been slowly increased over the years. Future plans will see two more modules and a switching yard. Setup time is about 1½ hours and take down is about 2 hours.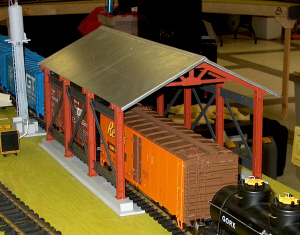 The outdoor Service Shed covers the inside and storage tracks. The tall white structure to the right is a sanding tower minus the overhead discharge pipe. A derailed boxcar managed to clip it and rip the pipe off. Both were designed and built by Richard from bits and pieces. The roof is made from tin sheeting.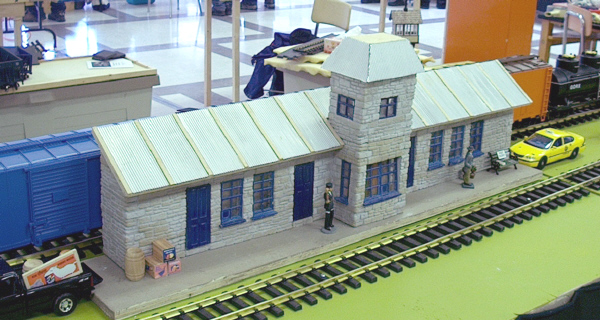 Every railroad has to have a passenger station. This one is made from cement blocks made with JigStone molds. For more information on JigStone construction, see the Projects section of the web site. The station weights about 20 pounds and is 32 inches long, 12 high and 4 inches wide. Yes 4 inches!
The building had to fit between the passenger track and the freight track. The roof is made from corrugated pop cans. It still has to be painted and weatherized. The station will be transferred outdoors this spring to Bell Junction on the Ironwood, Peter's Pond and Western Railway.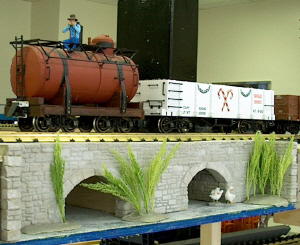 Mud Creek Bridge an experiment in building a concrete bridge on a module. It is made from JigStone bricks. The weeds are parts of a plastic flower and the white ducks just happened to fly in. The other side of the bridge is the same as the outside, however, it cracked when being transporting to the show, but it now looks more authentic. Richard made the old tank car on the bridge. The body and frames are made from wood and the tank is a truncated Bachmann oil tank.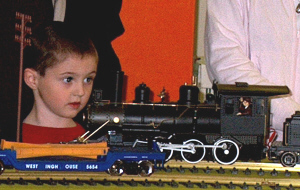 The best thing about participating in train shows is seeing the delight on the faces of young want-a-be engineers.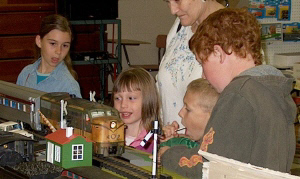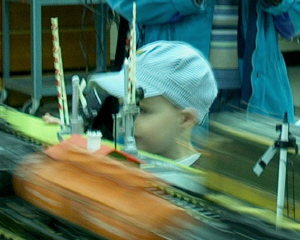 The biggest attraction of the kids is the railway crossing. They seem to wait for the trains to go around again and again and watch it work. Lights flash, gates are automatically raised and lowered and the bells ring, and ring, and ring. On the second day the bells usually got muted. The railway crossing is on the outside track and is activated by the train's weight moving over it. The electronics and the bells are in the green shed.