This year the Ottawa Valley Garden Railroad Society hosted the fourth annual American Invasion of Ottawa on July 15th, 16th and 17th. It was a tremendous success with thirteen visitors from six different states taking part. Here is the group photo taken just before Saturday's operation.
In the back row from left to right: Greg Adams (CA), John Spencer (NY), Tom Bowdler (NY), Bud Nelson, Mike Smithson, Doug Matheson, Peter Bramah, Ken Brunt (PA), Doug Mallon, Bob McCown (MA), John Hopkins, Stu Moxley, Paul Norton.
In the middle row from left to right: Brad and Tyler Larabie (Gord's Grandsons), Bruce Chandler (VA), Roger Caiazza (NY), Bruce Bramah (Peter's son).
In the bottom row from left to right: Gord Bellamy, Ric Golding (IL), Jan Golding (IL), Fred Mills, Martha McCown (MA), Nicole Charette (Montreal), Gaetan Charette (Montreal).
Missing from the picture: Gord Larabie (photographer), Jane Bowdler (NY), Sue Caiazza (NY), Linda Spencer, the JigStones Lady (NY).
We started early Friday morning with a relaxed operation. About a half dozen OVGRS members operated with early arrivers Bruce Chandler and Ric Golding. I was dispatcher and was too busy to take pictures but snapped this shot of Ric Golding (in front) and OVGRS member Ralph Dipple (in the rear) working on their switching moves in the Glen Hammond Yard. To the left is the new mainline bypass around Glen Hammond, and in the background the long climb up the fence to Firgrove Yard at the western end of the line.
During the afternoon, many guests arrived and the live steamers tested their locomotives. Despite some initial concerns, the live steam locomotives hauled short trains up the tough grades and around the tight curves of the railway, although their engineers struggled sometimes with keeping them fully controlled. A hot fire and lots of steam pressure was needed. The IPP&W railway has a point-to-point, 800 foot long mainline with lots of hills, tightly curves, and a wye at each end for turning trains. It was a fun challenge for the live steamers who are used to running on wide, flat ovals. At dinner I did get a picture of avid steamers John Spencer and Roger Caiazza of the Upstate (New York) Live Steamers. A bit tired and burnt after an extremely hot day of railroading.
Dinner was a barbeque with chefs Fred Mills and Mike Charlebois, ably assisted by Jan Golding and others, setting out a wonderful meal of giant shrimp, venison steak and chicken. I captured this shot of animated discussion between guests Bruce Chandler (right) and Large Scale Central host Bob McCown (left) while guest Ken Brunt with the camera and OVGRS member Stu Moxley look on.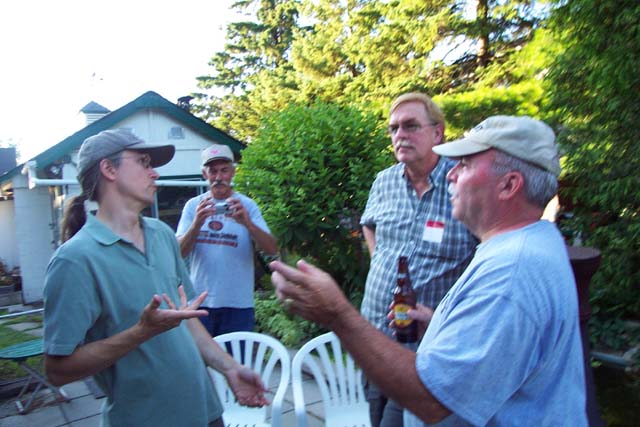 We had a great day Friday! A wonderful bunch of folks enjoying trains, food and most importantly each other's company.
On Saturday, we started the day with a narrow gauge operating session. We ran nine mainline trains simultaneously with two man crews, two yard switchers in Glen Hammond and a third in Craig Leigh with 2 man crews, plus a dispatcher for a total of 25 operators occupied for a few hours. Three of the mainline trains were powered by live steam. The visiting engineers were each assigned an OVGRS brakeman to help them navigate the railway and throw switches. The crews communicated with the dispatcher with hand held radios, seeking permission to move from one station on the railway to the next.
The entire operation was set up using the RailOps computer software. The switch lists for each crew and the yard masters, details the cars to be picked up or dropped off at each location.
Waiting in the Craig Leigh Yard are Ric Golding's Bachmann Shay and Tom Bowdler's Accucraft live steam C-16.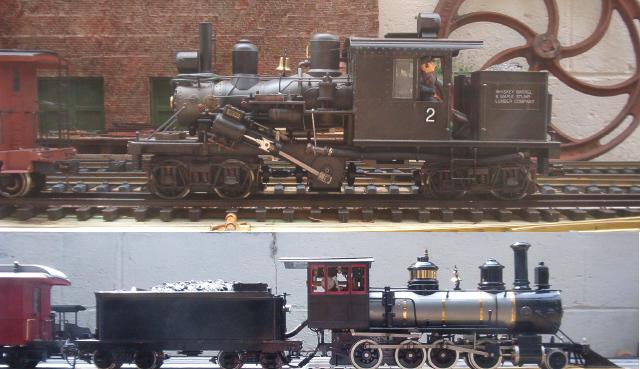 Craig Leigh yardmaster Ric Golding (left) chats with OVGRS member Paul Norton. It's no wonder the freights out of Craig Leigh were late!!
This is the ready track at Firgrove Yard with a shay is steaming up, while the crew of a local freight makes up their train.
Finger Lakes Steamer, Roger Caiazza was the engineer on an ore drag using my manually controlled, Accucraft, three cylinder shay. We had a fair bit of switching to do and as a low priority train we spent some time sitting in the hole waiting for higher priority traffic to clear. The dispatcher, OVGRS member Peter Bramah, himself a 3.5 inch gauge live steamer, did his best to keep the steamers moving.
Roger (partly visible on the right with the water bottle) steams the shay with its ore train out of Bell en route to Blue Mountain Mine.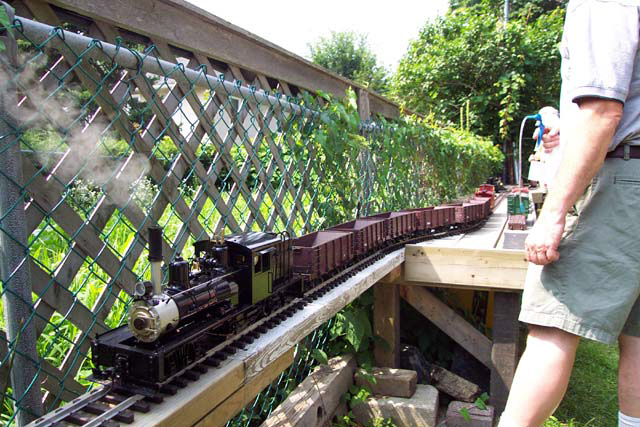 Roger making setouts of empty ore cars at the Blue Mountain vermiculite mine. The green and white dispatcher's office is in the background. I was Roger's conductor and had placed my hand held radio on the rocks in the foreground so I could take the picture.
Tom Bowdler's radio controlled, Accucraft, live steam C-16 and John Spencer's Pearce Colorado each took a 3 car passenger train. We simplified the passenger train running by eliminating the setouts of express reefers, but even so, the trains had to be turned on a very short wye in the Firgrove Yard. Besides just making those tough hills westbound, the passenger trains had to get through the other traffic on the line.
Tom's C-16 with train number 1, The Pond Express, nears the end of its formidable 80 foot long climb on a two percent grade. An eastbound local freight waits on the siding making, from the dispatcher's perspective, a perfect meet at Bell. In the picture is OVGRS member Greg Adams, who has just recently returned to Ottawa after several years in California.
How did the live steam perform? Tom Bowdler had been very nervous about the ability of the live steam, side rod engines to handle the touch grades. But he pretty much summed it up afterwards by stated, "I want a more challenging train. The passenger job is too easy!" He then proceeded to turn his passenger train neatly on the wye and back it up 76 feet through the Craig Leigh Yard, placing the railing on the observation car at the bumpers of the Craig Leigh passenger station.
After the operating session, everyone relaxed in the shade of the gazebo for a late lunch of barbequed hamburgers and sausages compliments of OVGRS member Stu Moxley. That afternoon some of the visitors were taken to see Dave McCurdy's RGS garden railway.
Here Dave (in blue) is showing Bruce Chandler the eastern run along the dry creek.
A freight train running around a mountain of very large boulders with Ric, Tom and Bruce in pursuit.
From left to right: Tom Bowdler, Dave McCurdy, Ric Golding and Bruce Chandler. Dave, who is scheduled for a quadruple bypass tomorrow, is explaining his vision of the RGS Railway.
Laura McCurdy, Jane Bowdler and Jan Golding relaxing in the shade on a very hot day as the boys talk trains.
In the evening everyone gathered at the Emerald Plaza to enjoy a Chinese buffet supper, some relaxed conversation and the air-conditioning.
In all, a very successful event: with lots of railroading, very hot weather with lots of sun-burned faces, good food, lots of cold beverages, and great company! We hope to see all our guests back next year for the 5th annual American Invasion of Ottawa.